Photo Credit: Joe Caronia/PrepsKC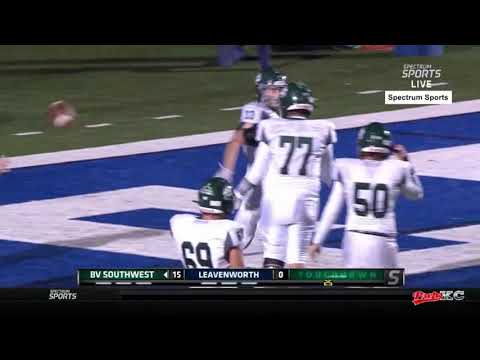 Blue Valley Southwest, travelled to Leavenworth and came away with a 37-7 win. The Timberwolves defense, set the tone early in the game. Linebacker Aiden Morgan crashed through the line and tackled the Leavenworth running back in his own end zone for a safety.
Early in the second quarter, quarterback Dylan Dunn connected with Zach Atkins for a 20-yard touchdown. Jackson Garrett converted the kick, and the score was 9-0.
The Timberwolves also scored late in the quarter, when Jake Laurie, took a pitch and scored on a 10-yard run.
Laurie scored two more times in the third quarter, both touchdowns were 2-yard runs.
Early in the fourth quarter, Parker Smith scored on a 34-yard run. Garrett nailed all of his kicks and the Timberwolves were up 37-0.
Leavenworth managed to score in the final quarter. Quarterback Eddie McLaughlin, who had been roughed up all game, scrambled to his right, and saw an opening in the defense and ran down the sideline for a 79-yard touchdown. Peyton White converted the kick, to complete the scoring.
After the game Dunn spoke about the offense.
"We really just tried to take what they gave us," Dunn said. "If they were defending the pass, the running game was working. When they gave us the pass, we just took advantage of the opportunities."
Then the sophomore quarterback, smiled and said: "I love playoff football, it's a great feeling to get a win as a team, it's exciting. I can't wait to move on."
Leavenworth finishes their season with a record of 5-4. Blue Valley Southwest, improves their record to 3-6.