Photo Credit: Jeff Stead/PrepsKC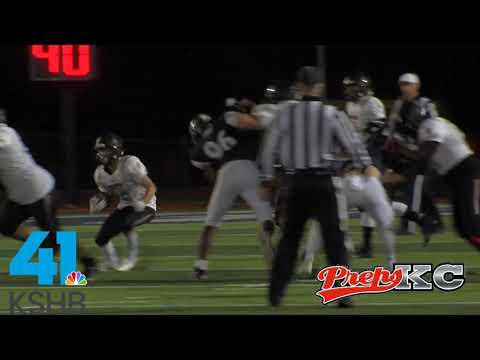 There have been plenty of firsts for Lee's Summit North football in Jamar Mozee's seven seasons as the head coach. On Friday night, the Broncos added another one.
A No. 1 district seed.
Lee's Summit North clinched the top spot in Class 6 District 3 with a convincing 38-6 victory over Lee's Summit West on the Titans' home field. That win, combined with a loss by previous No. 1 seed Nixa, vaulted the Broncos into the top spot and set them up to spend most of the postseason at home as long as they win.
"I won't say this is all new," Mozee said. "I think four years ago we had a good little run. But tradition-wise there's a lot of firsts. We're still learning how to win, learning how to do things day-to-day."
North has learned how to win under Mozee, who has turned around a program that saw little success before his arrival. Last season, riddled as it was by Covid and other issues, was a setback, but this one has pushed the North (8-1, 6-1 Suburban Gold) into dominance.
And against a crosstown rival that dominated them for years, the Broncos had control from start to finish.
North's defense, which has recorded three shutouts this season and almost had another Friday, held Lee's Summit West (4-5, 3-4) to 167 total yards, most of which came on the Titans' lone sustained drive in the second half. The Broncos' offense racked up 400 yards, with quarterback Tre Baker tallying 274 passing yards and a touchdown.
"We did some good things, and believe it or not (West was) physical back and they were doing some good things, too," Mozee said. "But we were methodical driving the ball."
North was so methodical, it almost seemed unstoppable. The Broncos marched 91 yards on 14 plays after getting the opening kickoff, with running back Quincey Baker capping the drive with a 4-yard run for the first of his three touchdowns.
North's next drive lasted 18 plays and ended with a 37-yard Seth Simpson field goal early in the second quarter. West's next possession ended when North's Dewuan Mack picked off a Titans pass, and three plays later North's Tanner Howes crashed in from 1 yard out.
And shortly after a bad snap on a West punt attempt put North on the Titans' 3-yard line just before halftime, Quincey Baker scored again from a yard out and the Broncos had a 24-0 lead.
"It's great for me, honestly," Quincey Baker said. "Me being able to score three touchdowns on these guys, that awesome. It's hard to stop me and I want to prove I can do more than some people think."
Baker's final TD, which came on another 1-yard run early in the third quarter, illustrated North's confidence and dominance. Facing fourth and 21 from its 41, North was going to punt until Mozee noticed Howes was uncovered after the Broncos shifted.
The punt turned into a pass from Tre Baker to Howes, who broke several tackles as he battled his way to the Titans' 1.
"Once I saw nobody was covering Tanner Howes on that punt, we locked eyes and they knew what to do," Mozee said.
"We've got athletes that can make plays," Tre Baker said. "Give it to them and they make the plays."
West got on the board in the fourth quarter on a 1-yard TD run by David Mayo after an 80-yard drive. North wrapped up the scoring on its next possession with a 50-yard TD pass from Tre Baker to Devin Blayney.
So now the Broncos are off to the postseason, fueled by a convincing victory over a crosstown rival and securing the top district seed.
Not that they needed a confidence boost.
"We're super-confident," Quincey Baker said. "We think we're going to go all the way."