Welcome to Five From Friday our weekly feature that highlights some of the best quotes, notes, stats and performances of the games Friday night.
Quote of the night
"We can do a lot of things out of (rhino), but a big part of it is No. 2 (Greyson Holbert) is carrying the football, and when he carries the football, good things usually happen for us. With our big offensive line, I like our odds." Blue Valley Coach Allen Terrell talking about a run heavy offensive package that helped lead the Tigers to a 23-17 win over rival Blue Valley West
Stat line of the night
Nathan Ricco, quarterback Park Hill South – The senior threw for 317 yards and four touchdowns on 21 of 44 passing to lead the Panthers to a 34-27 overtime victory over Lee's Summit. The win moves Park Hill South to 8-0 on the season.
Call of the night
Olathe North hosted Lawrence in a classic Sunflower League battle. The game was as advertised as the teams were tied at 14-14 when the Lions lined up for a game-winning field goal with just 1.3 seconds on the clock. Senior Grant Glasgow walked out and calmly drilled the game winner. Spectrum Sports Kevin Wike was on the call.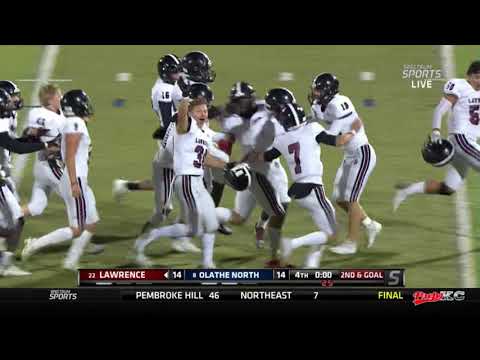 Team of the night
Excelsior Springs – The Tigers jumped to an early lead at Odessa and did something that no team had done since November of 2018, beat the Bulldogs. In fact it's the first regular season win for any team playing Odessa since 2017. Excelsior Springs used a total ground game to earn the 32-20 victory rushing for 320 yards compared to 99 for the Bulldogs.
Big Winner
Bishop Ward – The Cyclones beat Osawtomie 48-0 to move to 4-3 on the season securing their first non-losing season since 2008. It also moved them to 3-1 in their district which clinches Ward's first spot in the postseason since that same year.