Photo Credit: David Smith/Special to PrepsKC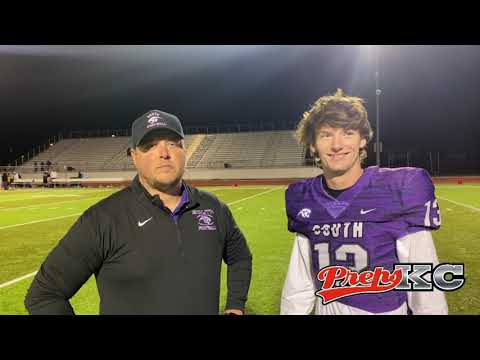 Thanks to some late-game heroics, Park Hill South kept its undefeated season intact and clinched at least a share of the Suburban Red Conference title in the process.
In a back-and-forth battle, the Panthers clawed back in the final minutes and ultimately prevailed in a dramatic 34-27 overtime thriller against Lee's Summit on Friday night.
Panthers' quarterback Nathan Ricco threw for 317 yards and four touchdown passes, including the game-tying and game-winning scores, and Park Hill South's defense sealed the deal by forcing a final stop that helped the team improve to 8-0.
"We didn't play very well a lot of the times, but the kids kept playing," Park Hill South coach Wilmes said. "And that's probably the ghost of being undefeated. But we told them to keep playing, keep playing, keep playing. And they did, and it worked out in our favor.
"I'm super proud of them for that."
In a game with numerous twists and turns, the Panthers jumped out to a 10-point lead after Hayden Klein's 55-yard touchdown reception that put the team in control. South's defense also bottled up the Tigers offense for the first five drives of the game, at least until Lee's Summit quarterback Alex Benassi got loose.
Benassi jolted the game into gear with an electrifying, 59-yard touchdown scamper late in the second quarter that energized the Tigers. The teams traded touchdowns during the next two quarters, and Tigers running back Devin Andrews put his team in great shape with his second rushing score with just a few minutes remaining.
Trailing by a touchdown, Park Hill South took over at its own 9-yard line with just under three minutes left and charged right down the field to tie the game. Senior receiver Mudia Reuben finished off the drive with his second touchdown of the game and racked up 115 receiving yards.
Ricco said the team's mentality didn't change at all and had confidence they would be able to deliver.
"I feel like we didn't have to change anything," Ricco said. "Going into that drive, it was do what we've been doing. We'd been driving down on them all game. Obviously, they couldn't stop us.
"There was nothing they could do, nothing we could do but keep going."
Park Hill South actually re-gained possession and had a chance to win it in regulation, but Lee's Summit senior Avion Wallace snagged an interception in his own end zone to send the game to overtime.
The Panthers took possession to begin the first OT and needed only three plays to reach the end zone. Ricco rolled out to his right and dialed it up to Klein, who finished with a game-high 176 receiving yards, for the game-winning score.
"We're always on the same page," Ricco said of his receivers. "No matter where I am, they're there. They'll always make the catches, and I can't ask for anything more."
On the final drive, Lee's Summit took multiple deep shots into the end zone but couldn't find the answer it needed to tie the game. Benassi finished with 180 passing yards and a touchdown pass to go with his team-leading 78 rushing yards. Andrew contributed 63 rushing yards and two TDs, while Joshua Manning and David Dossett combined for 138 receiving yards for the Tigers.
Park Hill South has the chance to clinch an undefeated regular season next week against St. Joseph Central and wrap up sole possession conference title.
"It's awesome to win and beat a program like Lee's Summit," Wilmes said. "To come back in the fashion we did and not give up and make plays. And besides being a coach, it was an exciting football game for everybody else.
"… We're super pumped to be in this position and to learn from it and improve on our mistakes and move onto the next week."