Photo Credit: Tim Galyean/Tim Galyean Photography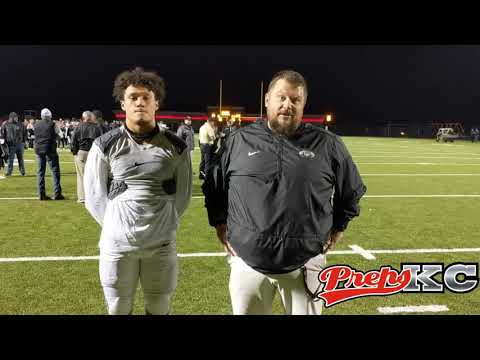 When it mattered most, Blue Valley went old school against one of its biggest rivals. Ground and pound. Jumbo package. Smashmouth football. Or whatever you prefer to call it.
The Tigers call it their "rhino package" and they utilized it in the most crucial of moments possible against Blue Valley West Friday night at the Blue Valley Antioch District Activity Complex on the campus of West.
"We needed an attitude adjustment," Blue Valley coach Alan Terrell said.
The adjustment paid off.
With the score knotted at 17-17, Tigers quarterback Greyson Holbert went under center behind his stout offensive line and executed a series of running plays in the waning minutes of the contest, with the final play of the drive coming in the form of a one-yard rushing touchdown that proved to be the difference as Blue Valley notched a 23-17 EKL road victory. The score occurred with 2:06 remaining, and West made it interesting on its final drive, but the Jaguars were not able to pull it off late.
"It's pretty big," said Holbert, a senior. "(West) wanted to beat us pretty bad. They came out here and played us well, but we just went to work."
Holbert, who passed for 199 yards with one touchdown and rushed for 59 yards and another TD, scored the eventual game-winner after pulling off multiple rushing attempts in the Tigers' "rhino" package.
Holbert was quite confident the adjustment would pay off.
"Extremely confident," he said. "It was simple. When we get into that set, it's all about attitude and we're going to take it to you every time."
"We can do a lot of things out of (rhino)," Terrell said, "but a big part of it is No. 2 (Holbert) is carrying the football, and when he carries the football, good things usually happen for us. With our big offensive line, I like our odds."
The build up to the touchdown was just as dramatic. Early in the fourth quarter, seconds after Blue Valley coughed up a fumble as it trailed 17-10, Tigers linebacker Hayden Essex snuffed out a screen play, snared an interception, and turned it into a pick-6 to even the score with 10:22 left.
"Huge. Just huge," Terrell said of Essex's interception return for a touchdown, which went for 27 yards. "That's something we've been working on as part of our third-down package. If he hadn't made that play that screen play could've gone pretty far. It was just a great play."
The Jaguars (4-3, 3-3 EKL) punted on the following possession to set up Blue Valley to hit the ground running. The Tigers improved to 6-1 overall and 5-1 in the EKL, and notably defeated West in the first game between the two teams on the Jaguars' campus.
"It was a great atmosphere," Holbert said. "A lot of people came out just as I expected. We embraced the pressure and still went to work and had fun with it."
In the early going, the rivalry contest was a defensive struggle. After a scoreless first quarter, the two sides exchanged made field goals -- a Charlie Weinrich 23-yarder to put Blue Valley on the board first and a Mika Montonen 22-yarder to tie it up. Then, Holbert found Andre Davis, like he did on 10 total occasions for 169 yards, for an 80-yard catch-and-run touchdown to take a 10-3 lead with 2:14 left in the second frame.
But the Jaguars didn't go into the locker room without an answer. West sophomore running back Sage Huffman ripped a 42-yard run before finding the end zone from 1-yard out to tie the score at 10-all with 13 ticks left before half.
Following the break, West receiver Jack Schneider hauled in a five-yard touchdown pass from quarterback Gage Roach to give the hosts a 17-10 lead with 4:27 left in the third quarter.
"We did some really good things, but we didn't finish some drives, and that changed the ballgame," Terrell said. "It kept them in it, and they made some plays and made it a heck of a football game right down to the end and having an opportunity. And our guys kept scrapping."
The Jaguars wrap up the regular season next week with a road contest against Blue Valley Northwest, who suffered its first loss, a 35-16 result against St. Thomas Aquinas on Friday. The Tigers, who have won six straight since opening the season with a loss against Northwest, host Blue Valley Southwest, who dropped to 2-5 with a loss against Shawnee Heights Thursday.