Photo Credit: Nick Smith/PrepsKC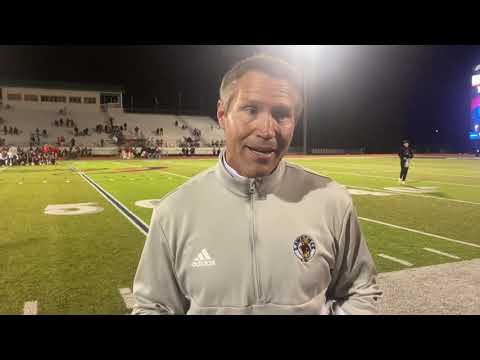 Lawrence High coach Clint Bowen got a chance to relive some of his high school glory days on Friday night in the Lions' road tilt against Olathe North at the Olathe District Activity Center. It felt like déjà vu all over again in a good way for Bowen, who is a Lawrence High alumnus, as senior kicker Grant Glasgow drilled a 26-yard field goal as time expired to give the Lions a 17-14 victory.
"Talk about a classic game. In 1988 at Olathe North, Lawrence High School won a game on a field goal from about that same angle," Bowen said. "The history of this game is unbelievable. They're a great team over there. Our kids competed and won a big game."
Lawrence High never led until Glasgow's kick went through the uprights, but the LHS senior was more than ready to come through for his team in a key situation. Glasgow was thrilled to put the finishing touches of what he felt was a complete team effort by the Lions.
"I was confident. I knew with three minutes left in the game that I was going to be sent out there and I was going to hit the game-winning field goal," Glasgow said. "I prepared for this multiple times with my kicking coach. I just knew I was going to hit the game-winner. It was as simple as that."
With the score knotted at 14-14 with five minutes to go, the Eagles embarked on a drive that they hoped would culminate in the game's final points. Olathe North had its running game rolling with an 11-yard run by Aquantez Love and 18-yard carry by Jacob Parrish to push the Eagles into Lawrence High territory. However, the drive stalled after that, as Lawrence High stuffed Olathe North quarterback Noah Palmer for no gain on 4th and 2 at the LHS 35-yard with 1:51 to go.
"They forced turnovers. They came out in the second half and gave us great field position," Bowen said of the LHS defense. "Our defense was lights out tonight. It was an unbelievable effort by our coaches and our kids. It was a great job by coach (Jeff) Lyster, the defensive staff and defensive players."
Some of Lawrence High's best offense occurred when quarterback Truman Juelsgaard extended the play with his legs, and that was very much the case on the game-winning drive. Juelsgaard scampered for 25 yards to take the Lions past midfield on the second play of the possession.
Two plays later, Juelsgaard took off again for an 8-yard run, but it went for 15 more yards thanks to an illegal blindside block that moved the ball to the Olathe North 19-yard line. Three runs by Shance Wilkerson set the stage for Glasgow's game-winner.
"I didn't give him a great angle," Bowen said of Glasgow's kick. "We tried to run the ball to the middle of the field, but the tailback bounced it (outside). We had a horrible angle, but he went out and made it happen."
Glasgow was also two for two on PATs. The first extra point came midway through the second quarter following a 28-yard touchdown pass from Juelsgaard to Dom Ostronic to even the game at 7-7.
Both the Eagles' touchdowns came on Palmer touchdown runs. Palmer's first score was from 2 yards out on the first play of the second quarter. The second one was on a 1-yard run with 41 seconds to go in the third quarter to put the Lions back up, 14-7.
It didn't take Juelsgaard long to answer his counterpart's touchdown run. After avoiding two defenders in the backfield, Juelsgaard dashed up the middle for a 5-yard touchdown run with 9:47 left to tie it back up. The LHS quarterback broke the century mark on the ground with 103 yards on 17 carries.
"Everyone played great. The defense showed up tonight and got the offense back on the field," Juelsgaard said. "The offensive line kept blocks down the field when I scrambled. Everyone just came ready to play. Coach Bowen put confidence in us and we put confidence in his game plan."
The Lions (5-2) will have another matchup with a lot of history behind it when they play host to Free State at 7 p.m. Friday. The Eagles (5-2) will conclude their regular season against Olathe Northwest at 7 p.m. Friday at the College Boulevard Activity Center.