Photo Credit: Jack McDaniel/Special to PrepsKC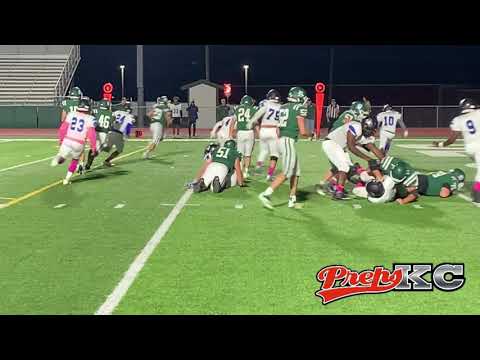 DeSoto got of to a fast start and never looked back as they notched a 52-36 victory over Leavenworth.
DeSoto scored twice in the first quarter. Quarterback Tyler Schultze, scored on a 6-yard keeper. Amarion Green took a handoff and went 21 yards for the score. Luke VanBooven converted both kicks and it 14-0 after one quarter.
Leavenworth cut the lead in half when Eddie McLaughlin connected with Jeremiah Lewis for a 37-yard touchdown. Peyton White's kick was good.
DeSoto got on the board twice more before the half. VanBooven nailed a 39-yard field goal. The last score came with :44 left in the half, when Tyler Schultze, optioned to twin brother Ethan, who took it the last 5 yards. The Wildcats went the locker room up 24-7.
DeSoto put the game away in the 3rd quarter, with both sides of the ball, by scoring 3 times on offense, and forcing 3 turnovers on defense, and blocking a punt. Tyler Schultze had a hand in all three scores. The first was a 21-yard strike to Ethan Schultze, over the middle. After Cole Heitmann, intercepted a pass near the end zone. Schultze scored on 96-yard option keeper. The Wildcats third score was setup by Charlie Tadlock's second fumble recovery of the quarter. Schultze went to the air one more time, this time to Jack Millman for a 31 yard score. After three quarters the Wildcats were up 45-7.
DeSoto coach Brian King let his young players get some snaps in the 4th quarter, and Leavenworth scored four times in the quarter. Sam Curtis scored twice on the ground. The first touchdown was from 22 yard out, and the second was from the 6-yard line. McLaughlin also converted a two-point run.
DeSoto back up Carson Miller scored on a 49-yard keeper. VanBooven continued with his perfect night kicking.
Leavenworth did manage to get the last two scores McLaughlin scored on a shifty 40-yard run. Then the Pioneers quarterback connected for a second score to Lewis, for a 61-yard touchdown pass. White's kick was the final score of the game.
After the game Tyler Schultze talked about the 96 yard touchdown.
"It was an option play to the right, and I actually misread, my read," Tyler Schultze said. "So I cut it back and made a guy miss, and then I just ran as fast as I could to the end zone."
Coach King had high praise for his defense after the game.
"With a quarterback like that kid, (McLaughlin), that's a tall task ahead of you," King said. "Our defense watched film, they came early, every day to get prepared. Our defensive staff, got the kids ready and I was very, very proud of them."
With the win, DeSoto evens its record at 3-3, and the Wildcats will be on the road at Kearney, to wrap up their regular season.
Leavenworth's record stands at 4-3, and they will be home next week against Sumner.