Photo Credit: Juli Jones/Special to PrepsKC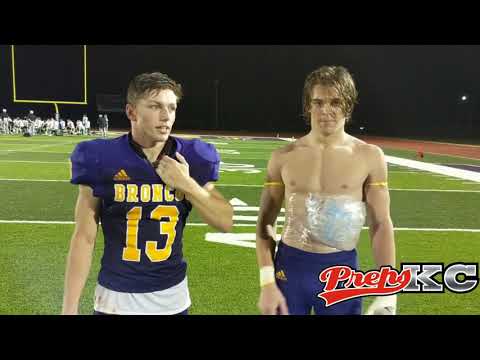 Both coaches noticed. The players were well aware, too. Especially the hometown Broncos.
The fans took notice, as well.
Spring Hill played a physical brand of football and overwhelmed DeSoto with a four-touchdown advantage and a shutout at halftime, as the Broncos captured a commanding 28-14 conference victory Friday night at the Spring Hill Activity Complex.
The Broncos' defense easily won the battle upfront, stopping the Wildcats' option attack, and Spring Hill's offense turned on the jets with a 21-point second quarter for a 28-0 halftime advantage.
"We just got out-executed," DeSoto coach Brian King said. "They out-physicaled us."
"I think we played really, really hard," Spring Hill coach Jason Feeback said. "That's the key to what we do. We play as hard as we can, and we try to eliminate mistakes."
Outside of a couple second-half turnovers, the Broncos did just that, setting themselves up for another dominating win this season and an improvement to 5-0, the first time the program has won five games to start a season since 1990.
"We haven't been 5-0 in a long time," said senior Zach Knowlton, who tallied a pair of rushing touchdowns on the night. "It felt good to beat DeSoto, it's been a while since we've beat them, too."
"You can see and hear it in the stands; our folks are excited about us," Feeback said of the Spring Hill faithful. "And the kids are excited. They've worked for it. Every week these kids show up and try to get better."
Knowlton and senior quarterback Fletcher Pankey took control for the Spring Hill offense in the first half, and the Broncos' defense forced three DeSoto punts and a turnover on downs on the Wildcats' only offensive possessions of the first two quarters.
After a DeSoto punt on the game-opening drive, Spring Hill, with its hurry-up, fast-tempo offense, marched down the field to set the tone. The impressive first drive was completed with a Knowlton 32-yard rushing touchdown midway through the first quarter.
Two plays into the second quarter, Pankey tossed a 19-yard touchdown pass to Norian Terrill for a 14-0 lead. DeSoto recorded a couple first downs in its next possession, but the Wildcats turned it over on downs in four-down territory.
Then, Pankey heaved another passing TD, this one over the top to Kameron Crotchett from 19 yards out to make it a three-score advantage. To cap the Broncos' first half scoring, Knowlton logged a 12-yard touchdown run, his second on the night, with 1:30 left in the second for the eventual four-score lead.
"Our outside zone was working pretty well, and our passing game is always there," Knowlton said of the first half success.
"I think our tempo got them a little bit early. We were clicking on all cylinders," Feedback said. "Pankey put the ball where it needed to be, our receivers made some plays, and we were able to convert and make big plays."
Spring Hill, however, stalled on the first two drives of the second half, punting on both occasions, leaving an opening for DeSoto to make things interesting.
The Wildcats punted themselves on their first second-half possession but found the end zone for the first time when senior quarterback Tyler Schultze scored on a 14-yard rush as time expired in the third quarter.
After the Broncos burned a couple minutes off the clock and drove about 40 yards, DeSoto forced a fumble, with Davis Barr recovering it, to take possession and inject life into the visitors sideline and bleachers. But the Wildcats were unable to capitalize on the turnover.
The visitors did, however, find the end zone for a second time when Schultze found senior Ethan Schultze for a 50-yard touchdown connection, cutting Spring Hill's lead to two touchdowns with 2:58 left in the contest.
The Wildcats recovered the ensuing onside kick, but their offense stalled before the Broncos spoiled the rest of the clock for win.
Even with the historic start, Feeback is focused on what lies ahead.
"We don't want to peak now, we want to peak later," he said of his Broncos, who face 2-3 Tonganoxie next week.
Meanwhile, King, the Wildcats' coach, was relatively pleased with his squad's second-half effort.
"They got called out at halftime," he said. "I was really pleased with how they responded. You just can't wait to play football after halftime."
DeSoto will next host Shawnee Heights (1-4).