Photo Credit: Jason Burritt/Bay's Creek Photography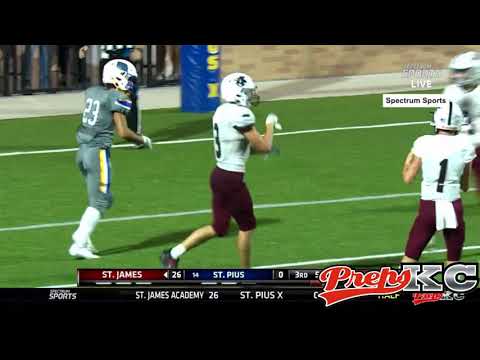 For the reigning Kansas Class 5A champion, 2021 was off to a rough start: St. James Academy was 0-4 -- all of them against Eastern Kansas League rivals — and hadn't scored more than 13 points in a game — while losing by an average of 29 points.
That streak ended Friday night.
It seems all the Thunder had to do was cross the state line, where they routed host St. Pius X 33-13.
Jackson House passed for a pair of touchdowns and ran for another while Tyler Claiborne scored three touchdowns as St. James (1-4) dominated the first half and led 33-0 by the start of the fourth quarter.
In the process, the Thunder handed the Warriors (5-1) -- ranked fourth in Missouri Class 3 after finishing as runners up in Class 2 last season -- the first loss.
House finished with 144 yards passing and led the Thunder with 84 yards on the ground. Claiborne led all receivers with 84 yards. He scored on a 9-yard reception from House on SJA's first touchdown. In the third quarter, he caught a 5-yard touchdown pass from Ben Wheeler.
In between, he scored on a 3-yard run.
Robbie Sharp, who had a game-high 80 yards rushing, scored SPX's first points early in the fourth. Jack Mosh connected with Jayshawn Ross for a touchdown on the Warriors' next possession.
But that offensive surge came much too late to make a difference in the game.