Photo Credit: Todd Nugent/PC Preps Extra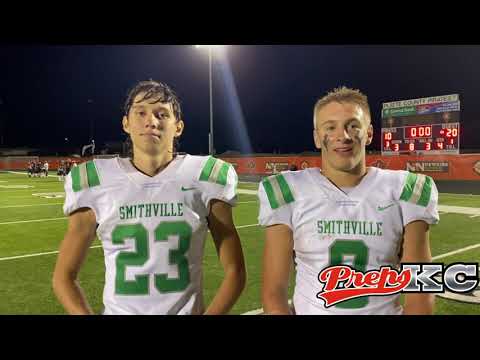 Spurred by a stellar defensive effort, Smithville kept its perfect season rolling and took a major step toward one of its primary goals – claiming a conference title.
The Warriors forced four turnovers, including one to end the game, on the way to a 20-10 victory against Platte County on Friday night. Senior Cody Simoncic claimed three of the takeaways – two interceptions and a fumble recovery – and helped limit the Pirates to 101 yards of total offense.
In the process, Smithville upended the Pirates for the first time since 2018, something that clearly meant a lot to a determined class of seniors.
"They had something we wanted. They won the conference title last year," Simoncic said. "We wanted that, and we had to come here and get it."
Both teams displayed incredible defense through the first month of the season, and defense set the tone for much of a low-scoring first half. But Smithville's Keltin Nitche intercepted a pass near his own goal line, setting the stage for a game-turning drive.
Starting on their own 1-yard line, the Warriors marched 99 yards in 5 minutes and scored the game's first touchdown with 12 seconds left in the first half, taking a 10-3 lead. Running back Hayden Sigg reeled off several strong runs and finished the drive with a 2-yard burst on a crucial third down.
The long scoring drive helped Smithville find its groove offensively, and that trend continued when receivier Rhett Foster snagged a tipped ball and raced for a 53-yard touchdown early in the third quarter.
Foster told his teammates on the sidelines afterward that it was the luckiest thing that ever happened to him, but there was nothing fluky about his 174 receiving yards that kept the Warriors moving downfield all game long.
"I felt like that grabbed some momentum back for us and the karma shifted back a little bit," Smithville coach Jason Ambroson said of Foster's touchdown. "It's like I the kids, 'If you keep playing hard and keep doing things right, it's going to bounce your way sooner or later.'"
Smithville forced a three-and-out on the ensuing drive and were on the cusp of scoring again to start pulling away. But Platte County's defense delivered an incredible play to keep the game within striking distance.
Junior Cameron Wolfe pounced on a fumble and outraced everyone for an 86-yard touchdown that brought the Pirates within a touchdown, 17-10, early in the fourth quarter. The scoop-and-score brought the home crowd back to life put pressure on Smithville to respond.
Yet the Warriors didn't let the score get any closer thanks to a 7-plus minute drive that took chewed up much of the remaining time and resulted in another field goal from Noah Schuetz, putting Smithville in front 20-10.
Simoncic would nab his second interception on the very next drive and then sealed the deal by recovering a fumble as the clock hit zeros. In all, Smithville's defense limited the Pirates to six first downs and less than 15 minutes of possession time.
"It's huge for us. We came in with a good game plan, and we just executed it perfectly," Simoncic said. "Just the momentum kept coming our way, and we loved it."
Meanwhile, Sigg ran for a game-high 174 yards and a touchdown on 32 carries, while quarterback Andrew Hedgecorth finished the game strong on the way to 247 passing yards on 16-for-25 attempts. Platte County quarterback Jared Parsons threw for 78 yards, and Cole Rhoden led the team in receiving with 38 yards.
Ambroson praised his defense, in particular, for locking down a team that had won its previous three games and said he was glad to see the Warriors close out the rivalry game on such a strong note.
"I think it was an amazing defensive effort. I'm going to put it on them right now," Ambroson said. "We put together a great plan. The kids worked hard all week on the plan. And they went out and delivered on the plan against a really good football team."