Photo Credit: Jeff Stead/PrepsKC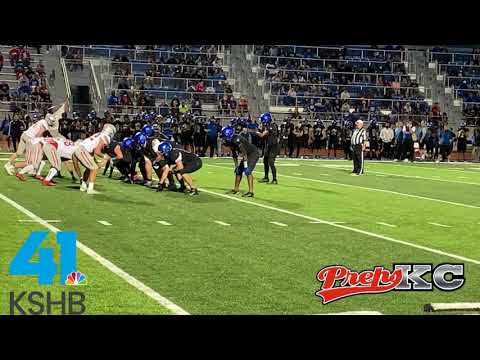 Blue Valley West crossed the state line and came away with victory as they defeated Raytown 27-19. The Jaguars won the game, in part due to their defense forcing three Red Zone turnovers.
The Jags, scored on their second drive only needing one play. Sage Huffman split the defense for a 32-yard touchdown run. Mika Montonen then converted the kick. The Jags again only needed one play on their next possession, Gage Roach went up top Charlie Johnson, for an 89-yard score. The kick was no good, and the score was 13-0.
The Raytown Bluejays controlled the second quarter. Nate Whitebear, connected with Anthony Ransburg for a 64-yard touchdown. Brandon Green converted the point after.
Then with just 1:00 left in the half Whitebear hit Zahmari Gary in the flat, and Gary refused to be brought down breaking three tackles on his way to a spectacular 26-yard touchdown. The kick was no good, and the teams went to the half tied at 13.
The Jaguars faced a 4th down and short on their own 29-yard line and lined up in the shotgun. Then Roach quickly moved under center, took the snap, and broke through the line, and was on his way to a 71-yard QB sneak for a touchdown.
Roach later teamed up with Jack Schneider for an 8-yard touchdown reception. Green nailed both kicks.
The Blue Jays made it close when Whitebear and Gary teamed up again, this time from 19 yards. There was a bad snap and the kick failed.
Raytown had one more chance to tie the game, after recovering a fumble with 2:47 left in the game. The Jays drove to the Jaguars 30-yard line, but when a 4th down halfback pass fell incomplete, the game was over.
After the game, Roach talked about his long touchdown run.
"The coach called the play, and I couldn't have done it without my offensive lineman," Roach said. "I got to line and made sure everyone was set, and then it was just a matter of making the play. But I give all of the credit to the offensive line."
The win moved the Jaguars record to 3-1 and they will be on the road next week, at Bishop Miege. Raytown dropped to 2-1, and they will be at Belton next week.