Photo Credit: Jeff Stead/PrepsKC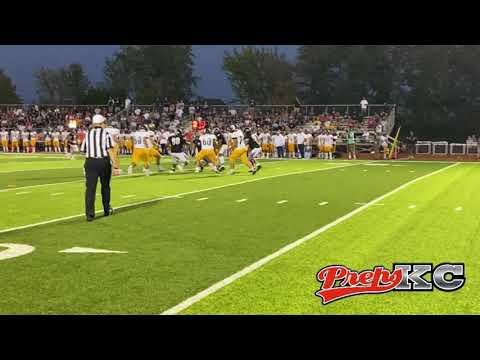 For Liberty North a one minute, nine second stretch was all the Eagles needed to break the backs of Raymore-Peculiar and roll to a 42-14 win.
Leading 14-0 with 1:05 left in the first half, quarterback Sam Van Dyne connected with Dell Rice for a 50-yard score.
Trailing 21-0, but receiving the second half kickoff, the Panthers were still alive, hoping for a score to get back within two scores. Instead on the first play from scrimmage in the second half, Eagles defender Matthew Hutson picked off the pass and rolled 30 yards for an interception.
In the blink of an eye it was 28-0.
"It set the tempo, it sucked the air out, just a huge play," Liberty North head coach Greg Jones said.
While Ray-Pec was able to regain its composure and score on the following drive, the game was a foregone conclusion at that point.
"It just escalated so quickly between the long pass play and the end of the second quarter and that play, it just escalated quickly," Ray-Pec head coach Sean Martin said.
The victory marked the first time the Eagles had beaten the Panthers in four tries.
Two of the three losses for the Eagles came in the playoffs. Though this Liberty North team is comprised of many sophomores and juniors that weren't part of the three losses, Jones was part of each of them.
"When you lose four games in two years and three of them are to that team right there, yeah you want to beat them, so there were a lot of sleepless nights trying to scheme some stuff," Jones said. "The kids came out and executed well. I'm proud of them."
Running back Cayden Arzola was also part of those teams.
Arzola was part of a balanced offensive attack of the Eagles. North racked up 428 yards of offense, 147 on the ground and 281 in the air.
Much of that dominance came from North controlling the line of scrimmage.
"Amazing, one of the best feelings in the world," Arzola said. "It was a lot better game than I was expecting, a great, great game,"
While the physical approach has been a brand of football that Jones has had since his days as the coach at Kearney, this offense feels different to him.
"I've been in this game long enough to know if you can out physical people on the offensive and defensive lines you have a chance to win," Jones said. "Along with doing that, with the quarterbacks and receivers we have this year, before it was like we can pound them, but we couldn't take the lid off. We've got receivers who can take the lid off."