Photo Credit: Nick Smith/PrepsKC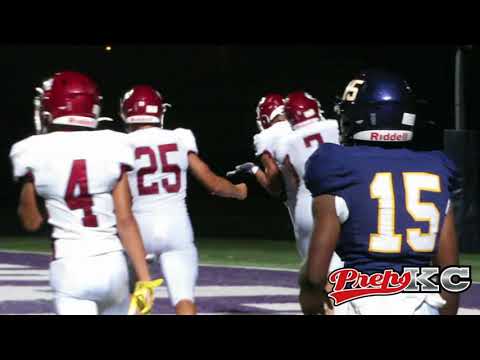 Standing near midfield at Piper High on Friday night, the surroundings still buzzing with joy, Pirates head coach Rick Pollard couldn't put his finger on just where Piper's 26-23 thriller over Eudora ranked on his all-time list but he knew one thing: It wouldn't be forgotten.
"This one was a lot of fun," an elated Pollard said. "I mean, the stands were packed for the first home game we've had in two years, and we put on a show."
A show that nearly unraveled in the Cardinals favor, Piper found itself with the lead only once prior to the final whistle, committing three costly turnovers and a safety early on, but in the end all the Pirates would need was one play.
"I was asking coach to call that play three times before, but he didn't hear me," senior Ethan Walker proudly said with a victorious smile. "He called it on the last play, and we took advantage of it because we knew their corners were going to jump on it."
Down 23-20, having just allowed Eudora to regain the lead on a Brayden Beerbower punch-in from the goal line with 0:47 remaining on the clock, Piper's offense found itself not far behind the 50-yard line with a running clock dipping under 10 seconds.
Snapping the ball at the 0:07 mark, junior quarterback Logan Ladish rolled out to his right towards the home stands and launched a deep spiral down the sideline towards a speeding Walker in single coverage. Catching the ball at the 15-yard line, Walker did the rest, sprinting across the goal line with an outstretched arm as pandemonium ensued.
"We refuse to lose," Walker stated passionately. "That's our motto and it's been our motto all year. We just needed to lock in."
"I'll remember this for the rest of my life," junior lineman Camden Beebe added. "We're built for this."
On the opposing sideline, a defeated Sean Hayden was down but insisted his team is far from out after such a heartbreaker.
"I think that's two of the best teams in the state battling it out," Eudora's head coach said with positivity. "It was going to end like that. It ended like that last year too, but it won't define us."
"Our guys battled until the last second and it came out in their favor. That's okay."
Beerbower and sophomore Adrion Seals were standouts for the Cardinals despite the result. Senior Silas Etter also pitched in on the scoreboard.
For Piper, Ladish rebounded after a shaky start to make several key second half connections with senior receiver Divante Herrig-Brittian that also weighed heavily in the comeback.
Nevertheless, as exciting as it was, Pollard hopes this doesn't become a trend for his improving Frontier League front runners.
"I told them that if we're playing our best football right now, we aren't very good," Pollard finished. "So what I hope is that we learn from our mistakes, get better, and don't put ourselves in this situation again."