Photo Credit: Nick Verbenec/Special to PrepsKC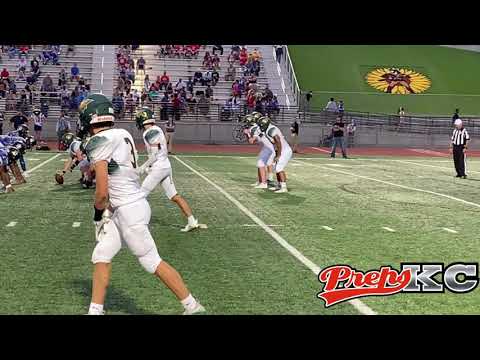 Basehor-Linwood used a ball-hawking defense, that caused four turnovers, and three first-half touchdowns by Zack Sisemore, to post a 42-13 victory, over Leavenworth.
Sisemore scored on a 19-yard run in the first quarter. In the second quarter, on 3rd and 13 from the Pioneer 39-yard line, Sisemore leaked out of the backfield, and quarterback Brady Garrison connected with his running back in the flat, and with a tremendous spin move, Sisemore, beat his defenders, and went all the way, for the touchdown. His final score of the half, was a 2-yard run, with just 48 seconds left in the half. Gage Greer converted all of his kicks and the Bobcats, took a 21-0 lead into halftime.
After the game Sisemore talked about his touchdown reception,
"I lowered my shoulder, to make sure that I got the first down," Sisemore said. "I wasn't sure if I had the first down, yet. When he hit me, I could tell that he didn't wrap up and after I spun, I saw that it was all green."
Leavenworth tried to get back in the game in the second half. After a long drive Alexander Finn took a Jet-Sweep and found the corner of the end zone, from 8 yards out. Peyton White converted the kick.
The Bobcats answered when Garrison started to air it out. His first touchdown pass was a 20-yard score to Sean McGowan. His second was 23 yards to Chants Nelson.
Leavenworth then got one back, when quarterback Eddie McLaughlin and Jeremiah Lewis combined for a 26-yard score. However, White's kick was no good.
Garrison and Nelson completed the scoring on a perfectly executed play action pass play that covered 46 yards. Greer converted again for the final score. The Bobcats improved their record to 2-0, as they will host DeSoto next week. Leavenworth dropped to 1-1 and will travel to Piper next week.
For more photos of this game go to www.nickverbenecphotography.com