Photo Credit: Cole Young/PrepsKC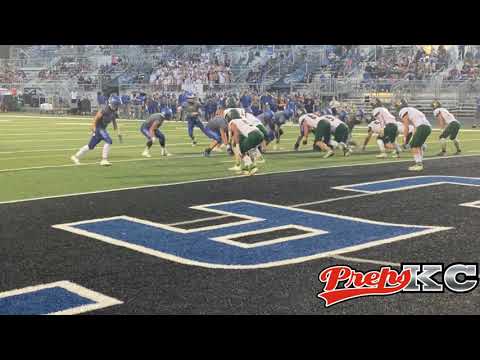 Much has been made about the Harrisonville offense after it's explosive victory in its season opener.
On Friday, it was the Wildcats' defense that led the way in a 28-20 victory over Maryville. And while things got a bit dicey at the end with the Wildcats knocking down a Hail Mary just yards from the goal line as time expired, the majority of the second half defense belonged to Harrisonville.
"A wins a win," Harrisonville head coach Kyle Schenker said. "It wasn't real pretty or anything and we have a lot to fix, but our kids have a lot of fight and showed a lot of guts."
It was the first win over Maryville in over a decade for Harrisonville. The Wildcats dominated the series in the mid-2000s including a state semifinal win. The last three matchups had gone the Spoofhounds way.
Trailing 14-6 to begin the second half, the Wildcats took control in the third quarter.
Jace Reynolds opened up the second half scoring with a nine-yard run, which coupled with a two-point conversion tied the game, 14-14.
The Wildcat defense forced a quick three-and-out but found themselves pinned inside their own 10 to begin the ensuing drive. This time, younger brother, Nate Reynolds broke off an 88-yard touchdown run to give the Wildcats a lead they wouldn't relinquish.
The freshman Reynolds is one of three players seeing time in the backfield, joining Mason Mitchell and Espen Glenn as signal callers.
"We are probably the only team in the nation to play with three quarterbacks," Schenker said.
Glenn contributed on defense as well, knocking down the final pass from the Spoofhounds to end the game.
Offensively, Nate Reynolds creates a new dynamic for defensive coordinators to adjust to. He led all rushers with 201 yards on 16 carries. Jace Reynolds added 155 yards on 25 carries and two scores, putting him over 500 rushing yards in just two games.
"That puts a different thought process out there," Schenker said. "I wouldn't want to be a defensive coordinator going against that. We try to create as many headaches as we can."