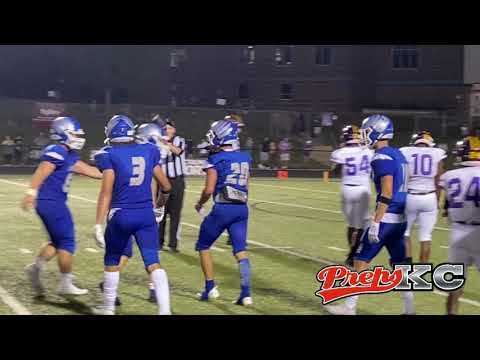 With the chance to win the game on the spot, Liberty coach Chad Frigon believed his high-octane offense could get the job done.
His belief was rewarded when Blue Jays' quarterback Tyler Lininger snuck across the goal line for the game-winning two-point conversion, closing out a 43-42 overtime victory against Blue Spring on Friday night in an instant classic between Class 6 district rivals.
"I just felt like there was a point in the game where it was our best chance to win the football game was to go for it," Liberty coach Chad Frigon said. "We felt like once we got into overtime, that was going to be the plan."
In a back-and-forth battle between explosive offenses, Blue Springs (0-1) staked itself to an early lead thanks to an impressive showing from sophomore quarterback Sal Caldarella. He opened the scoring late in the first quarter when he kept it himself for a 20-yard touchdown run. On the next drive, he completed a picture-perfect fade route to Ike Ezeogu that put Blue Springs in front, 14-0.
But that's when the proceedings swung in Liberty's favor. The Blue Jays reeled off a 35-6 run over the next two-plus quarters, largely fueled by a powerful run game led by Wentric Williams III. The senior standout scored three touchdowns and tallied 295 rushing yards that put Liberty in control down the stretch.
"We made mistakes at the beginning, and we never let that bring us down because we have faith in ourselves. And we have faith in each other," Williams III said. "… We never got down once. We always believed."
On the first play of the fourth quarter, Liberty receiver Caden Dennis scored his second touchdown of the game, putting the Blue Jays (1-0) up by two touchdowns, 35-20.
Still, the Wildcats showed incredibly resiliency and started a remarkable comeback effort then and there. Caldarella kept his team in the game by tossing a 14-yard touchdown to Dalesean Staley on the ensuing drive.
Trailing by a touchdown late in the game, the Wildcats then blocked a field goal attempt and took possession with 3:34 remaining in regulation. Caldarella then engineered a phenomenal, 75-yard drive that resulted in a touchdown pass to Jaxson McIntyre with one second left on the clock.
The sophomore signal caller went on to finish with 154 passing yards and three touchdowns, along with 60 rushing yards and a rushing score in an impressive debut.
"I'm really proud of him. For a sophomore, he did a great job leading up to the game," Blue Springs coach David White said. "There were a couple of sophomore plays, but other than that, you can't ask for better from him.
"And he's got the respect of every kid in that locker room."
Blue Springs took possession to begin overtime and needed only three plays to score a touchdown on Kyle Bruce's second rushing score of the game. The senior tailback turned in an impressive performance with 166 yards and two touchdowns on 18 carries.
But on Liberty's overtime drive, Lininger threw a touchdown pass to Ricky Ahumaraeze on third down and then snuck into the end zone on a 2-point conversion that sealed the game. And once Lininger emerged from the scrum, he was mobbed by his teammates in a raucous celebration.
Lininger credited his teammates for putting him in position to make the game-clinching play, and he said a win like this highlights the team's potential this season.
"These games, they don't happen often," Lininger said. "So for this to be the first one, it just shows how we have heart, grit. It's just a perfect preview of our team this season."
Lininger finished with 161 passing yards on an efficient 10-for-12 passing effort, while Liberty racked up an impressive 479 yards of total offensive – more than 300 from the rushing game. Ahumaraeze led the Blue Jays with 62 receiving yards, including the final touchdown, while Dennis contributed 63 yards from scrimmage and two touchdowns.
Despite a few miscues he saw down the stretch, Frigon said he was thrilled with how the team performed when it mattered most and thinks the Blue Jays will build on a dramatic season-opening victory.
"This really showed us things we've got to get better at this week," Frigon said. "Hopefully, our kids can focus down and work on improving."