Photo Credit: PrepsKC staff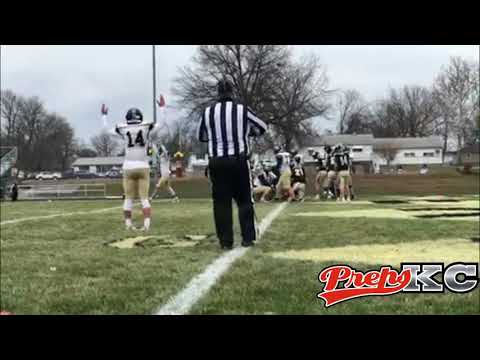 The Adrian defense put together one of its best start to finish efforts of the season on Saturday and it's a good thing. The Blackhawks needed the strong defense until the final play of the game.
Adrian held off Marceline 13-7 in a Missouri Class 1 quarterfinal.
The Blackhawks, 11-1, defended a potential game-tying touchdown pass as the final horn sounded. The toss from Marceline quarterback Jacobe Stallo bounced off the outstretched hand of Wyatt Molloy in the end zone sending Adrian to its first state semifinal since 2005.
"That was pretty close," said Adrian defensive back and quarterback Colton Bass. "But we were able to get in there and break it up."
Bass along with Owen Tallman provided coverage on the game-sealing play.
The final drive was one of the few moments where the Blackhawk defense allowed the Tigers to move the ball. Entering the quarterfinal, Marceline had averaged 54 points per game over the last seven contests before being held to just seven on Saturday.
Led by a defensive line that included the return of defensive tackle Aaron Cochran, Adrian controlled the Marceline running attack.
"We knew matching up they weren't a heavy pass team so we matched up pretty well," head coach Matt Cochran said. "But yeah, defensively the kids played well."
Adrian jumped out to an early 7-0 lead when Bass scored on a two-yard keeper midway through the first quarter.
The score was part of a grind it out drive that featured a healthy dose of Bass plus running backs Korbin Kisner and Hunter Bailey.
"Our MO is to hold the ball six, seven, eight minutes and score at the end," Cochran said.
Adrian had a chance to jump up 14-0 in the second quarter however the ball came out of Bass' hands inches short of the goal line.
Instead of a touchdown the ball was recovered for a touchback and the Tigers were in business.
They'd eventually score on a 24-yard touchdown pass to Molloy in the final minute of the first half.
Headed to halftime 7-7, Adrian came out in the third quarter with another meat grinder drive that again ended with a Bass quarterback keeper to score what would be the game winner.
"These kids don't really get too high or too low, they are pretty even keeled," Cochran said. "When something bad happens they don't seem too bothered, but when some good happens they kind of stay the same way. Having (Colton) back there kind of leading that, like in the second quarter we had the fumble, then the long pass and punt return. They don't get rattled with it."
From there, it turned into a defensive struggle between the two squads before the Blackhawks held the Tigers to advance.
The Blackhawks road gets no easier. They'll face top-ranked Mid-Buchanan at 1 p.m. Saturday in Faucett.