Photo Credit: Todd Nugent/Special to PrepsKC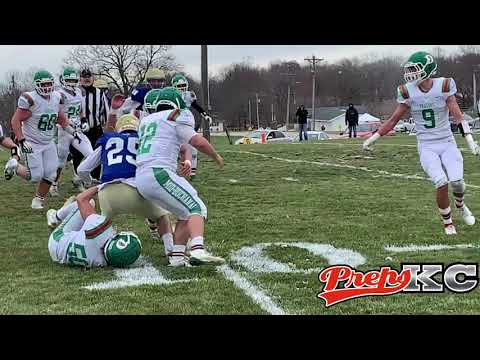 Mid Buchanan remained undefeated with a very workman like 46-21 victory over Penney in the Class 1 quarterfinals. Javan Noyes, senior quarterback had a big game on the ground and through the air.
he first half was back in forth with the two teams alternating scores. Penney got on the board first when quarterback Tucker Ross scored on a 15-yard keeper. Sawyer Morrow converted the point after.
Noyes and the Dragons matched that with his own 4-yard run for a score. Leyton Starks kick tied the game.
Penney regained the lead when Corbin Henderson burrowed in from 1 yard out. Starks' kick put his team out in front by seven points.
Late in the second half, Noyes went over the middle to Caiden Bailey, who split both safeties for a 9-yard touchdown, however Starks missed the kick, and the Dragons went to halftime trailing by one, 14-13.
In the second half the Dragons got a stop on defense and proceeded to take over the game. Noyes and Bailey hooked up for another touchdown, this one from 25 yards out. The two-point play was stopped.
Penney scored immediately after the kickoff, on the first play of the drive Morrow took a handoff and went around left end for a 65-yard touchdown. Morrow caught his breath and then kicked the point to give his squad a 21-19 lead.
The Dragons scored on every possession after that. Noyes found Lane Ellison for a 36-yard score. Rawlings Brant scored on the two-point run making the score 27-21.
At the start of the fourth quarter, Noyes scored again on the ground, this time from 3 yards out. The two-point pass was incomplete.
TJ Runyan ran the ball effectively between the tackles and he found the end zone on a 4 yard run. The two-point pass was again, incomplete.
The final touchdown of the day was appropriately scored by Noyes on a tough 12 yard run up the middle. Starks kick was the final point of the game.
After the game Noyes spoke about his running style, "I just look for any gap that will open. I know that our lineman work really hard, and I just want to hit that gap as hard as I can."
Penney completed their season with a final record of 9-4. Mid Buchanan improved their record to 13-0, and are just one win away from playing in the state championship game. The Dragons will host Adrian Saturday in the Class 1 semifinals.