Photo Credit: Steve Bubalo/PrepsKC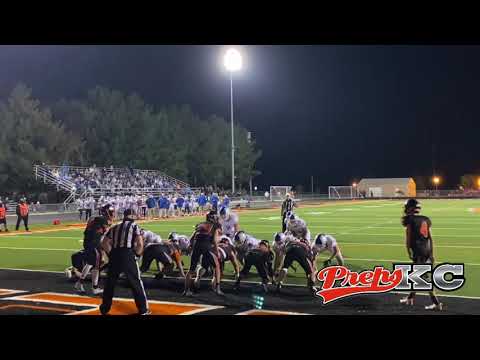 Complete Box Score and Play by Play
Summit Christian Academy was surprised to learn this offseason they would be jumping to Class 3 for the first time. If there was any doubt the Eagles could compete at this level, they started to erase some of that last week with a 42-30 opening-round win over Pleasant Hill.
Friday night, they made an even bigger statement.
The Eagles picked up the programs first-ever road playoff win, a dominating 35-0 performance at Oak Grove, advancing to the district championship game next Friday night against Odessa.
"The kids did a great job. It's all on the kids," Eagles head coach Todd Berck said. "Not many people gave us a chance outside of our locker room. That's what makes this sweet. We wanted to prove we belong. We have a chip on our shoulder."
Added quarterback Grayson Sprouse, echoing his head coach: "This game was a huge statement."
The Eagles made a believer out of Oak Grove head coach Pat Richard, too.
"They brought it," he said. "We were sleepwalking, and you can't do that against a good team. They were very physical and very good."
Summit Christian came out ready to play from the get-go, taking a 14-0 lead late in the first quarter. Sprouse scored on a 1-yard touchdown run for the first score and then found Griffin Kliewer for an 11-yard touchdown pass.
The second quarter was the best chance for the Panthers to get back in the game, but the Eagle defense stepped up. Oak Grove's best drive of the game to that point ended with an interception in the end zone by Summit Christian's Zack Oppriecht.
The Panthers responded with an interception of their own by Jacob Andell, but despite starting the ensuing drive on the Eagle 25, they turned the ball over on downs. They had a three-and-out later in the quarter and then drove inside the Eagle 20-yard line on their final drive of the quarter, after another interception, but the half ended before they could finish the drive.
"The defense answered for us after those interceptions," Berck said.
Meanwhile, Richard knew his team had missed out on crucial opportunities. A team that prides itself on running the ball was never able to get the ground game going.
"We've got to score," Richard said. "We couldn't get over the hump. They made plays and we didn't. Their outside linebackers played great. They made play after play after play. They forced us to run at their skill kids and they made plays."
The Eagle offense shook off the rough second quarter and put the game away in the third.
After the defense forced another three-and-out to start the half, the offense needed to go just 39 yards to go up 21-0 after Sprouse plunged in from a yard out.
Another three-and-out by the defense put Sprouse and company back on the field and after just three plays, the senior quarterback found the end zone again on an impressive 36-yard run for a 28-0 lead.
"Every time I ran, our line just had a bigger push," Sprouse said. "We have dogs in there that really want to fight. This was a great team win."
Added Berck: "At halftime I told the kids, no disrespect, but we're better than they are. We've got to believe it, and we have to make them believe it. … That was the most physical we've played all year."
Sprouse finished the scoring when he found Kliewer one more time, this one from 6 yards out. While he did have the two interceptions, Sprouse also had a hand in all five Eagle touchdowns.
"I'll take No. 7 back there for me every time," Berck said. "As he goes, we go."
Oak Grove wrapped up a 6-2 season after the defeat, an improvement after going 4-6 last year and 1-9 the season before that.
Summit Christian is now 8-3 and will have the tough task of knocking off defending champion Odessa, who has won 24 straight games.
"They're big," Sprouse said. "We have to keep our heads right. We will. We know how good they are."