Photo Credit: Nick Smith/PrepsKC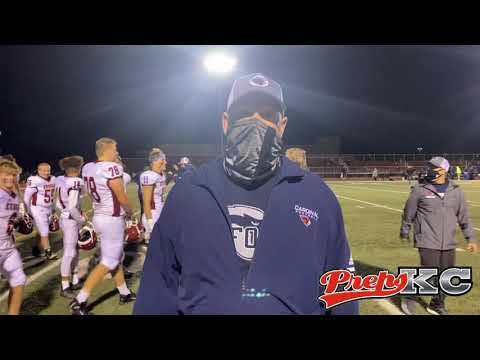 Despite dominating time of possession for the first three quarters and having no points to show for it, the Eudora football team wasn't willing to give in in its first-round Class 4A playoff matchup against Piper on Friday. The Cardinals scored two touchdowns and two two-point conversion in the fourth quarter to claw past the Pirates for a 16-15 victory, clinching their first playoff win in five years.
"We were down 15-0 going into the fourth quarter and I said this is our quarter. Let's dominate this, and they did,'" Eudora coach Sean Hayden said. "I'm proud of these kids. We've been this close all year. We've been in some tough ballgames and have played the best schedule in the state. It paid off. They said they were tired of being that close."
Hayden told his players at halftime to write their own story, so they could one day tell it to their grandchildren about how they rallied from a 15-0 deficit to win a playoff game. Sophomore Kale Hammerschmidt wrote the first chapter of the story by intercepting Piper's Logan Ladish deep in Pirates' territory and returning it to the Piper 5-yard line. Eudora (3-6) capitalized two plays later with a Zeke Reazin 3-yard touchdown run. Brayden Beerbower's 2-point conversion cut the deficit to 15-8 with 10:33 to go.
"They did the same thing earlier and I saw it coming," Hammerschmidt said of his game-changing interception. "I just read it right and made the play."
Hammerschmidt and Eudora defense held strong all night long with the exception of allowing two big receptions in the first half by Piper wideout Malakhi Kennon. The 5-foot-10, 165-pound receiver corralled a 25-yard pass on 4th and 8 from Cory Macon to set up a 3-yard touchdown run by Macon in the first quarter. Kennon then hauled in an 80-yard touchdown pass from Ladish late in the second quarter to push Piper's lead to 15-0 going into the break.
The Cardinals defense clamped down in the second half to keep Eudora within striking distance, and that was all Beerbower and company could ask for. Eudora got the ball with 5:56 remaining and just more than five minutes of clock by feeding Beerbower on the game-winning drive. The majority of Beerbower's 35 carries for 169 yards came between the tackles, but he burst to the outside for a 57-yard run when the Cardinals needed it most. His game-long run put the Cardinals in the red zone with just under three minutes left.
"We've been waiting on that play and have been practicing it for the past three weeks. The right moment came up and we called it and he did the rest," Hayden said. "I'm very proud of Brayden. He's a hard runner. He's gets those tough yards inside, so it was nice to see him break one."
The Eudora junior scored on a 1-yard run with 50 seconds to play and punched it in on the 2-point conversion attempt to give the Cardinals their first lead.
"We were going for four yards a carry and were going to ground and pound," Beerbower said. "Some are going to go far and that's just how it goes when you go hard."
Piper had one last chance to come out on top, but It quickly vanished when the Cardinals recovered fumble on the ensuing kickoff. Eudora will move on to play Basehor-Linwood at 7 p.m. Friday at BLHS in the regional round. Piper closed its season with a record of 5-4.
"We just need to keep pounding and we're going to be us. We're just going to keep being us and that's good enough," Hayden said. "I told these guys from Day One that as hard as our schedule is, I don't care what our record is going into the playoffs. We've got to keep getting better every week and we're going to be a playoff team that nobody wants to play, and you just saw it."