Photo Credit: David Rainey/The Examiner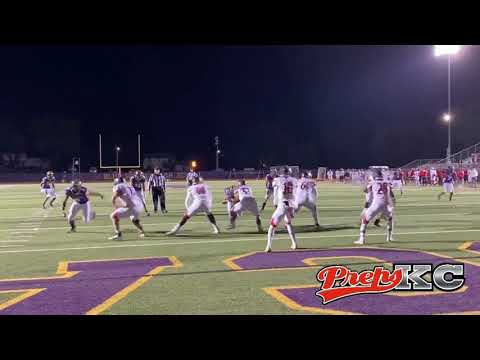 Complete Box Score and Play by Play
Blue Springs head coach David White knew his team would be facing a motivated Park Hill squad in the first round of the Class 6 playoffs Friday night. The Trojans were riding high from an impressive win last week and were looking to exact some revenge on the Wildcats from a Week 4 loss.
With all that in mind, White knew his team couldn't afford to start slow.
DeAndre Thomas got the message loud and clear.
The senior running back took the first play of the game 80 yards for a rushing touchdown, setting the tone from the outset, as the Wildcats rolled to a 55-28 win.
"When you play a team twice, especially if you won the first time, the other team is going to have a bit of a chip on their shoulder," White said. "They (Park Hill) had a big win over Ray-Pec last week, too, so we knew we had to start fast. DeAndre made guys miss, and for him to go 80 yards was impressive."
A fast start was on the mind of Park Hill head coach Josh Hood, too. After seeing the Wildcats lose 42-20 last week to Rockhurst, he was hoping a solid opening quarter could turn into a mental block for the opposing sideline.
"That was a big play because we felt like we needed to come out hot in the first quarter," Hood said of Thomas's run. "Based on what happened to them last week, we felt like if we could come out hot that might put a little doubt in their mind. Instead, we were kind of feeling them out, and you can't do that. They're too big. They're like a college team."
Instead, the Trojans found themselves in a hole too deep to recover from after the first quarter. Later in the quarter, Blue Springs recovered a Park Hill fumble, setting them up with a short field. They went 46 yards in six plays, capped by a Patrick Maloney touchdown pass to Dalesean Staley from 9 yards out to make it 14-0.
After a three-and-out by the Park Hill offense, Blue Springs kept attacking. They needed just six plays once again, this time to go 63 yards. Thomas had 44 yards on four rushes on the drive, the final coming from 13 yards out for a score and a 21-0 lead less than a minute into the second quarter.
Thomas finished with 162 yards on only 10 carries, as he left with an injury later in the second quarter. For the game, the Wildcats rushed for 342 yards.
"We just had to take what they gave us," White said. "We wanted to keep it simple. Just play football and go right at them."
Later in the second quarter, sandwiched around a Staley pick-six for Blue Springs were a pair of long touchdowns by Park Hill, as quarterback Anthony Hall found Jaylin Noel and PJ Caldwell for touchdowns of 57 and 76 yards, respectively, to make it 28-14.
After Blue Springs missed a field goal, it felt as if the Trojans had a little momentum with a chance to cut the lead to one score.
But the Trojan offense stalled and was forced to punt. Blue Springs capitalized, and once again they did it quickly. The Wildcats went 57 yards in five plays, the big one coming on a 41-yard pass play from Maloney to Carson Willich. Lamana Tapusoa capped the drive with a 2-yard touchdown run to make it 35-14 at the half.
"As coaches we talk about playing a full 48 minutes and playing until the half," White said. "To be able to get a big stop and score before the half was huge."
Park Hill had trouble moving the ball consistently throughout the game and became one-dimensional as the rushing attack had trouble getting going, amassing only 34 yards. They also turned the ball over five times. Add it all together, and it put extra pressure on the defense.
"The defensive staff has been great all year making adjustments," Hood said. "We hadn't given up more than 24 points in a game until tonight. We were just on the field too long. We needed to find a way to sustain drives on offense."
The Blue Springs defense forced a three-and-out to start the second half, allowing the offense to all but put the game away. Tapusoa scored his second of three touchdowns from 3 yards out to make it 41-14 after the point after was blocked.
The Trojans never got closer than three scores the rest of the game, as they wrapped up a 4-6 season.
Blue Springs, now 5-5, will look to avenge a season-opening loss in the next round of the playoffs when they travel to face Liberty. That was White's first game as head coach, but a lot has changed since then.
"That's motivation for us to show that we're better than we were on day one," White said.