Photo Credit: David Rainey/The Examiner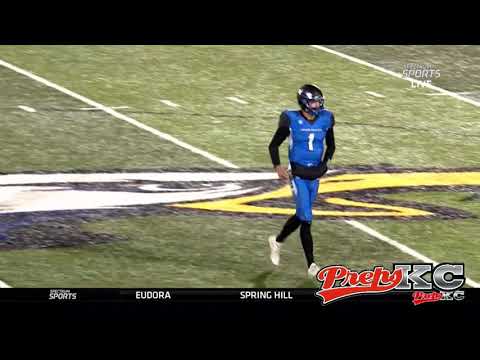 Complete Box Score and Play by Play
In a matchup of Top 10 teams in Class 5, Jaxon Wyatt and Cole Keller each ran for touchdowns and combined for 227 of Grain Valley's 270 rushing yards as the host Eagles responded to their first loss of the season by spoiling Belton's hopes for an undefeated one of its own.
In the process, they muddied the top of the Suburban Conference White standings in the final week of the regular season as Grain Valley, Belton and Raytown -- which beat Grain Valley last week but lost to Belton earlier this month -- all finished 4-1.
But the Eagles (8-1) emerged as the top seed in the Class 5, District 7 playoffs and should enjoy a bye in the seven-team district. Belton earned No. 2 and Raytown (6-3) is seeded third.
Wyatt capped a 12-play, 70-yard, game-opening drive covering 4:36 with a 7-yard touchdown run.
That was all the No. 8 Eagles needed as the Grain Valley defense shut down seventh-ranked Belton's offense, limiting the Pirates to 183 yards of offense while intercepting quarterback Braden Gerke twice and tackling him for a safety after the Eagles' special teams downed a punt at the 1-yard-line.
The Pirates twice got inside the Grain Valley 26-yard-line in the first half but failed on field goal tries of 30 and 43 yards. In the second half, Belton only got that deep once and was unable to convert on fourth down.
Wyatt finished with 93 yards rushing while Keller ran for 130 yards and a fourth-quarter TD. Hunter Newsom also scored for Grain Valley.
Despite the loss, it's been a stunning turnaround for the Pirates (7-1), who went 0-10 last season. In the district tournament they'll likely face winless Truman (0-8), the seventh and lowest seed.