Photo Credit: Steve Bubalo/PrepsKC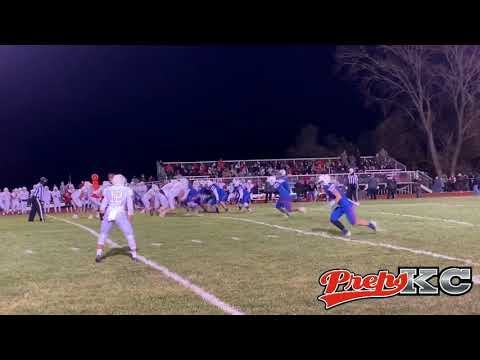 After 24 minutes of football between Richmond and Lexington, the scoreboard read a 16-all tie, but the Spartans had to feel like they should have had the lead.
Richmond had gifted the Minutemen a touchdown on a bad snap on a punt that was recovered in the end zone for a touchdown, and just before half they threw an interception in the end zone to erase a scoring chance.
Spartans head coach Nick Persell knew his team needed to clean up a few things.
"We had a conversation as coaches that we were playing just fine, we just had a couple of plays that didn't go our way," Persell said. "As the game went on, we knew that would translate to success."
And in the second half, it did.
Richmond scored within the first 2 minutes of the second half and used a stout defense to earn a 32-16 victory, a win that earned them a Missouri River Valley East conference championship.
The win also gave the Spartans a second-straight victory in The Bell Game over their long-time rival.
"This is my first conference championship (as a coach)," Persell said. "It means a lot as a former player. … It's special for me to win the bell. This is a big rivalry. It's nice to have some bragging rights."
Richmond needed just four plays to take the lead for good. Three straight run plays from quarterback Keyshaun Elliott and a Lexington personal foul penalty covered 56 yards. On the fourth play, running back Wyatt Marshall got the final 9 yards for a touchdown. He added the two-point conversion to make it 24-16.
Lexington looked poised to respond with a score of its own, taking nearly 8 minutes off the clock to get down to the Richmond 13-yard line. On a third-and-8 play, the Minutemen tried a halfback pass, but Evan Gosnell's toss was intercepted in the end zone by Layne Cavanah.
The 5-foot-7 Cavanah went up with 6-foot-1 Jalen Hill and came down with the football for the games biggest defensive play.
"That was a huge play," Persell said. "We knew Lexington has some athletes that can make huge plays in the passing game. All week we talked about fighting for the ball when it's up in the air. That was an amazing play by him (Cavanah)."
The Spartan offense took advantage of the interception, using their overpowering offensive line to put together a 13-play scoring drive. Elliott capped the drive with a plunge from a yard out. He added the two-point conversion for a 32-16 lead.
Elliott, Marshall and Adrian Church all did damage running the ball on the drive, as all 13 plays came on the ground.
"We have a lot of athletes in the backfield," Elliott said. "I think we knew all week we could run up the middle. We just had to work hard and execute."
Added Persell: "We've hung our hat on our O-line all year. We won the line of scrimmage, and that was the difference."
That line of scrimmage play was big on defense, too. The Minutemen drove down and scored on their opening drive, as quarterback Johnathan Taylor scored the touchdown and got the two-point conversion for an early 8-0 lead. But their offense was shut out the rest of the game, as the Spartans made Taylor and company work hard for their yards in all facets.
"It was all about our line of scrimmage play," Persell said. "Taylor runs the ball well. We felt like we had to get the run stopped and take away big plays. Every game they have two or three big plays down the field. Our defensive backs did a good job not giving up chunk plays. It was a team effort."
The loss was Lexington's first of the season, as they head into the playoffs with an 8-1 record. Richmond is now 7-1, just two years after going 0-10.
"We've had big goals since the summer," Persell said. "We just have to take it one game at a time. The ultimate goal is to win a state championship. We feel like we have the talent and ability to do that."