Photo Credit: Beth Fox/Special to PrepsKC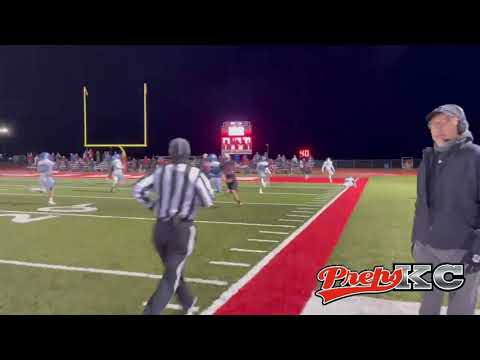 Complete Box Score and Play by Play
Odessa had one goal in mind on Friday — slow down Harrisonville running back Jace Reynolds.
Reynolds, who is considered one of the metros best running backs, ran wild against Winnetonka, racking 395 yards and eight touchdowns.
Friday was a different story for the junior standout. The Bulldogs (8-0) held Reynolds to 75 yards running on 19 carries, en route to a 51-8 win on Senior Night.
It marked the second time this season Reynolds was held to less than 100 yards and zero touchdowns in a game.
"I think Jace is tremendous back," Odessa coach Mark Thomas said. "He's a tough runner. We knew that we'd have to be disciplined in our run fits and that we had to get more than one (defender) to him … he's good enough to make a lot of guys miss."
Odessa's offense also did its part to keep the talented back in check by scoring early and often.
The Bulldogs, who are known for starting fast, wasted no time scoring as junior running back Blake Heitman took the first play from scrimmage 62 yards for the touchdown.
After Odessa's defense forced a three-and-out, its special teams unit came up big and deflected the ensuing Harrisonville punt, which gave the Bulldogs prime field position, field position that they didn't waste, as Shon Badder capped the six-play, 48 yard drive with 3-yard run up the gut, extending Odessa's lead to 14-0 midway through the first quarter.
The Bulldogs added their third first quarter touchdown late in the quarter as Jeffrey Brenden scored his fourth touchdown of the season with a 5-yard run.
"We know that Harrisonville is a really good team," Thomas said. "They've beaten some really good teams. … Our goal was to come out and play a complete game. To start a game that way is always a plus."
Harrisonville's lone touchdown of the night came midway through the second quarter.
Trailing 35-0, the Wildcats needed a spark, and with Reynolds not contributing as he has done all season, Harrisonville coach Kyle Schenker called on River Riley and Kennedy Atkinson as they connected for a 10-yard touchdown to cut the lead to 35-8.