Photo Credit: Nick Smith/PrepsKC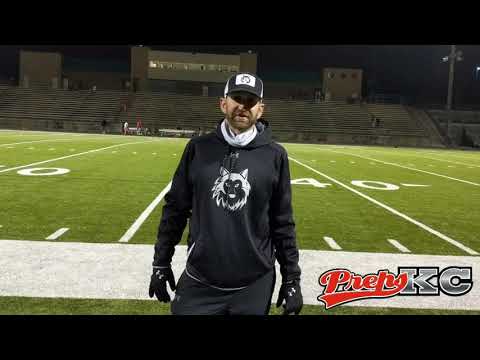 The Blue Valley Northwest defensive coaching staff posed a challenge this week.
"They said we were going to get five takeaways in one practice," Huskies senior Leo Clennan recalled. "We worked on that all week and I think it really showed on the field tonight."
Indeed, it did.
Blue Valley Northwest produced four takeaways and turned each one into a touchdown as the Huskies rolled Blue Valley West 42-21 in a regular-season finale Friday night at the BVDAC.
Northwest's defense came to play, holding the Jaguars scoreless in the first half – the Huskies led 21-0 at the break – and creating two interceptions and two fumble recoveries.
"We've had a complete turnaround this year," said Clennan, who was credited with three of the takeaways. "Our defensive line got to the quarterback and I thought we did a great job tonight."
Northwest head coach Clint Rider agreed.
"They've been solid each week," he said. "(First-year defensive coordinator Kollin Ahern) does a great job coaching them up. We knew screens would be a big part of the game plan tonight."
The Huskies' offense wasn't too shabby itself, rolling up 426 total yards of offense – 233 coming on the ground. Junior quarterback Mikey Pauley was a big part of that success, rushing for three touchdowns and passing for a pair of scores.
Pauley's first two rushing TDs – from 2 and 4 yards out, respectively – and first passing TD – a 16-yarder to Grant Stubblefield – provided the Huskies a comfortable three-score lead at halftime.
Northwest, which beat West 40-17 on Sept. 25, extended the lead to 28-0 in the first minute of the third period when Pauley found a wide-open Nick Cusick down the middle of the field for a 65-yard connection.
Then, West, fresh off last week's upset of Blue Valley North, found some life. Junior Gage Roach found Braxton Symonds and Scott Riddle on 22- and 12-yard passing connections, respectively, to cut Northwest's lead to 28-14 by the end of the third.
But the Huskies responded with two takeaways, both, of course, resulting in touchdowns – a Stubblefield 19-yard run midway through the fourth and a Pauley 22-yard scamper with 1:19 remaining. West tacked on a final touchdown when Roach tossed a 30-yard pass to Charlie Johnson with 21 ticks left.
In the end, it was Northwest (4-1) celebrating a win against West (1-4) for a second time this season.
"We've been talking about playing a complete game," Rider said. "We're in a good spot, but we haven't won a playoff game in a long time, so we just want to go 1-0 in the first week and continue to get better."
"It's a great win," Pauley said, "and it should give us great momentum for the playoffs."