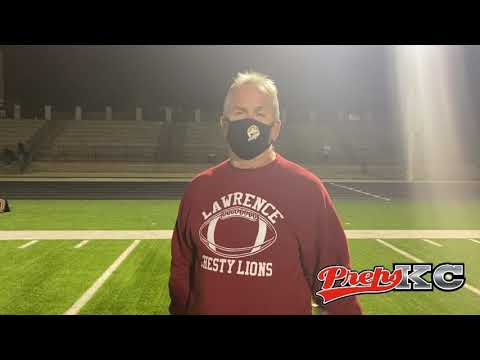 The matchup between two of Class 6A's top-ranked teams lived up to its billing on Friday night, as Lawrence High edged Olathe North, 21-20, in a Sunflower League thriller.
After trailing, 21-7, with 7:14 remaining, Olathe North quarterback Noah Palmer led the Eagles on back-to-back touchdown drives to give his team a chance to win it in the final minute. Palmer's 22-yard touchdown pass to Laython Patillo with 32.2 seconds left to cut Lawrence High's lead to 21-20. Olathe North coach Chris McCartney elected to go for two, but Lawrence High linebacker Cole Mondi stopped Palmer just shy of the goal line to seal the victory for the Lions.
"In that third and fourth quarter, they were really driving on us. We made some great adjustments thanks to the guys in the (press) box and on the sidelines," Mondi said. "My teammates set me up well for a perfect play and I was able to come through for them."
Mondi's game-saving tackle pushed the Lions' record to 6-0, while the Eagles took their first loss and fell to 5-1. The defenses stole the show for most of the night, but Lawrence High standout running back Devin Neal still made the most of his touches. Neal finished with 11 carries for 148 yards and three touchdowns and had one reception for 14 yards.
"You've got to give him a crack. If you give him a crack, he's pretty fast and it's hard for anybody to catch him," Lawrence High coach Steve Rampy said. "I thought he ran really hard. We did just enough up front."
Neal's first scored came on the Lions' first offensive play. After Evan Bannister fell on an Olathe North muffed punt at the Lawrence High 12-yard line, Neal quickly capitalized.
The Eagles didn't let the special teams miscue have a snowball effect, though, as the Olathe North defensive held the high-octane Lawrence High offense in check for the reminder of the first half. Palmer was a playmaker on both sides of the ball for the Eagles. The Olathe North junior corralled an interception late in the first quarter and completed all four of his passes in the first half for 85 total yards. His last pass of the half was a 23-yard touchdown toss to Braden Cain to tie it up at 7-7 with 41 seconds to go before the break.
"He doesn't say a word, but he leads by his actions," Olathe North coach Chris McCartney said of Palmer. "He's just old school, tough and physical. He's a baller. He's gritty and he's a dandy. I like him a lot and I like the way he plays."
Another big special teams play sparked the Lions to start the second half and give momentum right back to LHS. Kallun Chitama's 52-yard kick return gave the Lions the ball at the Olathe North 30-yard line. Neal cashed in once again with a 10-yard touchdown run a couple of plays later.
The Lions' 14-7 lead held through the end of the third quarter. With the Eagles facing fourth down at the Lawrence High 42-yard line Palmer took a shot at the end zone and was picked off by Truman Juelsgaard. The LHS defensive back landed just outside of the end zone, though, so Palmer's pick essentially worked out to be an effective punt. The big change in field position was short lived, however, thanks to Neal. The Kansas commit burst up the middle 98 yards for his third touchdown run to give the Lions a 14-point edge.
"That was all O-line. I went untouched all 98 yards," Neal said. "I give it up to those guys. The created a hole and I just did what I'm supposed to do with it. They give me great lanes."
Falling behind by two scores with seven minutes remaining forced the Eagles to pick up the tempo a little bit on offense, but that didn't faze Palmer. His 19-yard run set up a Jacob Parrish 2-yard touchdown run with 4:30 to play. Parrish also led the Eagles with four catches for 82 yards.
The Olathe North defense did what they had done most of the night and got off the field quickly by forcing an LHS three and out to give Palmer and the Eagles offense one final chance. While the two-point conversion following Patillo's touchdown pass wasn't successful, McCartney didn't regret giving his players a shot to complete the comeback.
"I'm really super proud of our guys. I don't think anybody gave us a chance. Nobody thought we could compete with these guys with the numbers they had been putting up and the teams they've played," McCartney said. "We haven't done that and played those types of teams, so nobody has given us credit yet. That was something we thought was really important was to come out and play hard. The kids fought until the very end. We took a shot there at the end and tried to go for the win, but I think the coach on the other side of the field helped us dictate that because he's been around for a while. He's probably got a number of tricks up his sleeve to pull one of those off, so we thought we'd try to end it. We gambled and lost."
Olathe North is scheduled to take on Olathe Northwest at 7 p.m. on Friday at the Olathe District Activity Center. Lawrence High will try to complete its perfect regular season against crosstown rival Free State at 7 p.m. Friday at FSHS.
"Oh, Free State? I forgot who we played next week," Rampy said with sarcasm. "It's over there. I've learned in my three years here that it's the game. It's what everybody gets crazy about. We'll get ready for them, but we're going to enjoy this one tonight."