Photo Credit: Jeff Stead/PrepsKC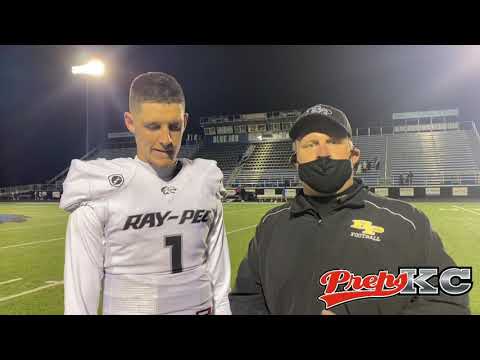 Complete Box Score and Play by Play
In the span of just seven minutes, Raymore-Peculiar quarterback Conrad Hawley – along with the Panthers' entire offense – delivered a statement performance that solidified the team as one of the most formidable programs in the state.
Hawley threw a career-high five touchdowns, including four in the third quarter alone, to propel Raymore-Peculiar to a 35-7 victory against a previously undefeated Liberty team.
In a battle the two top teams in the metro area, the Panthers (7-1) took a huge step toward locking up the No. 1 seed in Class 6 District 3 and are just one win away from at least a share of the conference title.
"It was awesome," Hawley said. "We kind of struggled a little bit in the first half. We made adjustments up front, and they blocked their butts off. Our receivers blocked well in the run game, and then they made plays when they needed to."
Both teams entered the game ranked near the top of the most recent Class 6 rankings – with Liberty at No. 2 and Ray-Pec at No 4 – and top-notch defense was on display for both teams during a hard-fought first half.
The Panthers scored on their first drive when Hawley tossed a touchdown to Weston Ropp, but the Blue Jays' tough defense didn't allow much more the rest of the first half. Meanwhile, Liberty (7-1) fought back into the game despite the absence of standout running back/linebacker Wentric Williams III, who picked up an injury the previous game.
Still, sophomore Anthony Wenson stepped right in and ran for a second-quarter touchdown that evened the game at 7-7 going into halftime.
With the game up for grabs, Raymore-Peculiar coach Sean Martin said the team had been in similar situations throughout the season, and he had a feeling the tide was about to turn during going into the third quarter.
"I told those guys at halftime, 'I can see it in your face. You guys are ready to do this. Just keep going on, and things are going to go our way,'" Martin said. "And they did."
Sure enough, Hawley connected with a wide-open Rece Teale for a 93-yard touchdown early in the third quarter that sparked a stellar scoring streak. In the span of eight plays from scrimmage, Raymore-Peculiar scored four touchdowns during a 28-point third quarter that put them in control for good.
On three consecutive offensive plays, Hawley threw touchdowns to Jaidyn Doss, Ropp and Phillip Fager, and he credited the offensive line's blocking, in particular, for making those plays happen.
"It's an awesome feeling to know that you're going to go out there and do your job and do it well because then you feel like nobody can play with you," Hawley said. "Those guys up front played awesome. They did a great job."
Hawley racked up 296 passing yards and five touchdowns on 11 completions, as the Panthers displayed their big-play potential. Teale led Ray-Pec with 119 receiving yards as part of a balanced receiving corps, while Fager gained 92 yards from scrimmage.
The Panthers' defense also seized the momentum and held Liberty scoreless during the second half, including a fumble recovery that set up one of the touchdowns. Martin said the defensive effort played in big part in the win after slowing down a Blue Jays' offense that had scored at least 24 points in every other game this season.
"We talk about compounding your effort and compounding things all the time with the kids," Martin said. "And they're really starting to believe."
Stepping in as the starting tailback, Wenson ran for 117 yards and a touchdown on 29 carries for Liberty, while Luke Smith returned to action after a two-week absence and threw for 73 yards, narrowly missing a few downfield passes to star receiver Caden Dennis.
Despite the setback, Liberty is practically locked into the top seed in Class 6 District 4 and still has a chance to clinch at least a share of the conference title with a victory next week.
"They came out and made some big plays on us, back-to-back in the third quarter that we couldn't recover from," Liberty coach Chad Frigon said. "Hats off to them. They're a great team, well-coached, but we'll get better from this."