Photo Credit: Dave Langham/Special to PrepsKC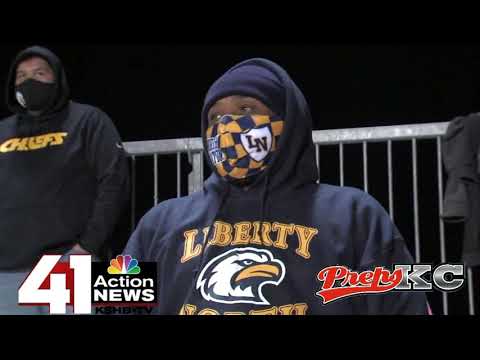 Complete Box Score and Play by Play
Stuck in a defensive slugfest, Liberty North desperately needed a big offensive play Friday night.
Eagles quarterback Joe Kroenke was happy to oblige.
With time slipping away in the fourth quarter and the Eagles down one point against Lee's Summit West, Kroenke found wide receiver Kaidan Armstead streaking down the right sideline. Armstead was in the end zone 77 yards later, and Liberty North would soon have a 22-15 victory in a Suburban Gold Conference showdown at LS West.
Kroenke's TD was his third of the game and his second to Armstead, which provided Liberty North (5-2, 4-2 Suburban Gold) with some rare moments of offensive spark. But the Eagles were also playing solid defense, and that turned the game at times into a stalemate.
Until Kroenke unleashed that deep throw on a post pattern.
"We actually wrote up that play earlier this week knowing how the Lee's Summit West corners were going to play," Kroenke said. "I knew the Rockhurst quarterback had some luck with that. Just read the safety wherever he's not, and put it where my receiver is."
Lee's Summit West (5-3, 3-3) made things difficult for Kroenke early on as Liberty North was pinned deep in its territory. And with star running back Zac Willingham-Davis playing sparingly due to injury, Liberty North didn't have its full complement of weapons.
But it did have a defense that dominated Lee's Summit West up front at times and held the Titans to 240 total yards and five three-and-out possessions. And when Liberty North needed a big defensive stop, the Eagles often got it.
"Our kids defensively especially played really, really well tonight," Liberty North coach Greg Jones said. "Our defense is getting better week after week after week."
West's defense, which pressured Kroenke most of the night and tallied four sacks, had the big plays early as the Titans pinned the Eagles back in their territory with long punts. Liberty North's first possession started on its 1-yard line, and ended when Willingham-Davis was tackled in the end zone for a safety.
Liberty North's next drive started at its 6 and ended with a fumble on the 15. That set up a 5-yard touchdown pass from Titans quarterback Trysten Keeney to Wyatt Ramsey for an 8-0 lead.
Liberty North's offense came to life on its next drive, which started on its 15 and ended eight plays later with Kroenke tossing a 10-yard pass to Armstead for their first score. A failed two-point conversion pass left the Eagles down 8-6.
But after a couple more LS West three-and-outs Liberty North struck again, this time with Kroenke connecting on a 31-yard TD pass to a wide-open Davis Rockers. Kroenke also found Rockers for the two-point conversion that up Liberty North up 14-8.
Lee's Summit West threatened to take the lead back when it drove to the Eagles 14 just before halftime, but the Titans couldn't convert a fourth-and-short play.
"I can't thank our defense enough, especially tonight," Kroenke said. "Without a doubt they bailed us out almost every single three-and-out we had, they were picking us back up."
Lee's Summit West retook the lead when running back Taylor Wilson scored from 6 yards out early in the third quarter. Wilson, who had a 76-yard scoring run nullified by a holding penalty later in the quarter, finished with 125 rushing yards on 26 carries.
From there the Titans and Eagles battled back and forth trying to find some offensive momentum until Kroenke and Armstead's second hookup. Lee's Summit West got the ball back with 2:38 to play, but an interception in the end zone by Eagles sophomore Treyton Shriver snuffed out the Titans' last hope.
Now Lee's Summit West, which entered the game ranked No. 7 in Class 6, has lost two straight. Liberty North hasn't been ranked, but after posting a fifth-straight victory, that could change.
Right now, the Eagles are just enjoying the roll.
"It's the third week in a row we've been in a fistfight," Jones said. "Our kids just keep battling and I'm proud of them."