Photo Credit: Joe Caronia/PrepsKC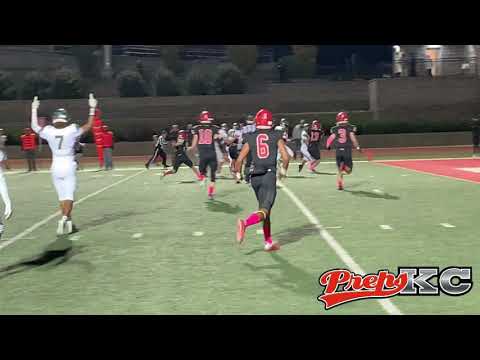 Basehor-Linwood went on the road and held on in the 4th quarter, for 33-26 victory over Lansing, in a game with seven passing touchdowns.
Lansing scored first when Caden Crawford connected for a 33-yard touchdown to Malik Benson. Liam Zell's point after was blocked.
The Bobcats answered quickly when Zach Sisemore scored on a 13-yard run. Collin Ridell missed his point after as well, and the game was tied.
The Lions mishandled the snap on 4th down and the punter never got the kickoff giving the Bobcats a short field. Senior quarterback Isaac Stanton began his aerial attack, his first touchdown 20 yards to Chants Nelson. The point after was blocked making the score 12-6.
Crawford gave the Lions the lead when he found Benson again this time from 37 yards. Zell connected on the PAT, giving his team a one-point lead.
Stanton put the Bobcats ahead will another score to Nelson, from 16 yards out. Ridell made his kick and the teams went to locker-room at halftime, Bobcats 19, Lions 13.
Halftime could not cool Stanton down, as he threw his third touchdown of the game. A 15-yard score to Jordan Brown. Ridell extended the lead, to 26-13. Two minutes later Crawford scored on a 2-yard sneak. The kick made it a six-point game.
Thirty-Five seconds later Staton threw his fourth touchdown pass of the game. Stanton again hooked up with Brown for a 32-yard score. The kick gave the Bobcats 33 -20 lead.
Lansing moved the ball down to the Bobcats 8-yard line but an incomplete pass on 4th and goal, gave the ball back to the Bobcats. The Lions forced a punt and moved right down the field, where Crawford and Benson connected for the third time, 32 yards to the corner of the end zone made it a one score game again.
The Bobcats took over with 7:54 left in the game and never gave the ball back to the Lions, thanks to three critical 3rd down conversions. A "pump and go", Stanton to Brown, a Stanton scramble, and finally a Sisemore run to end the game.
The win gives Basehor-Linwood a record of 4-3, with a home game against, Pittsburg next week. The Lions fell to 4-2, and they will host Platte County next.