Photo Credit: Clint Dye/Special to PrepsKC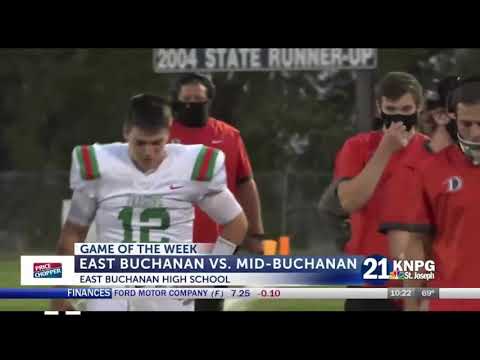 Tonight, Mid-Buchanan proved once again why they are the number one ranked team in the Missouri Class 1 standings with a dominant 49-21 victory over KCI Conference rival and the seventh ranked team in Class 1, East Buchanan.
"I felt like we did a great job of cleaning up the simple mistakes we were making in the first quarter and really had things clicking in the second quarter," said Mid-Buchanan head coach Aaron Fritz. "Our guys up front continued to battle with their big guys, and we were starting to have more success. Once we started to have success in the trenches, things really opened up for us everywhere."
Senior quarterback Javan Noyes got Mid-Buchanan on the board first with a four-yard touchdown run on the Dragons' first possession.
Quick to respond, East Buchanan junior quarterback Conner Musser connected with senior Drew Thompson for a 56-yard touchdown pass to tie the game at 7-7.
On Mid-Buchanan's next possession they retook the lead on a Noyes to Lane Ellison 50-yard touchdown strike.
The pair connected two more times in the first half as Mid-Buchanan rattled off 35 unanswered points to go into halftime leading 42-7.
Noyes had over 300 yards of total offense, throwing for 228 yards with five touchdowns and he ran for 80 yards with one score as well.
In total Mid-Buchanan had over 400 yards of total offense compared to East Buchanan's 231.
Now 5-1 East Buchanan will travel to Lawson (4-2) next Friday.
Mid-Buchanan who moved to 7-0 with the victory will host Plattsburg (3-4) next Friday night.