Photo Credit: Dave Langham/Special to PrepsKC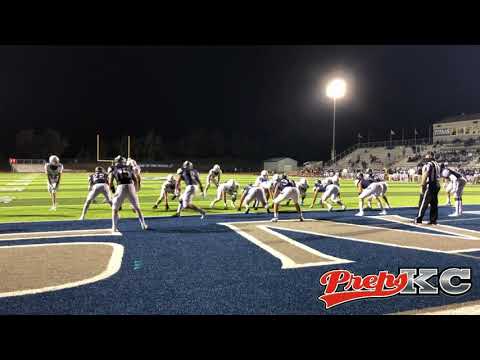 Complete Box Score and Play by Play
After upsetting the No. 1 ranked team in the state a week ago, Lee's Summit West knew it still had something to prove — beat Rockhurst.
The Titans (5-1), have seen their season end at the hands of the Hawklets in the playoffs for three straight years from 2016 through 2018, so Friday's 27-24 come from behind win was big for Vinny Careswell's squad, knowing there's a chance that his team might see Rockhurst again in the playoffs.
"This is our first victory against Rockhurst," Careswell said. "We've lost to them three times in a row in the playoffs, so this is special to Titan football."
The comeback started in the fourth quarter. After forcing Rockhurst to punt, the Titans offense took over with prime field position.
West didn't let the field position go to waste, as Colby Baggett cut the lead to 24-20 with a 30-yard run on a reverse that fooled the Rockhurst defense.
"They (Rockhurst) crash their ends hard, and they pursue hard," Careswell said of the momentum-turning touchdown. "We tried to call it earlier in the game, but we had an illegal procedure. … and we thought they might have sniffed it out and knew the formation and what we were doing."
The Titans seized control of the game on the Hawklets ensuing possession.
Facing a third-and-1, Rockhurst coach Kelly Donohoe called on Wilson Selzer to pick up the first down and as they've done all season, the Titans defense found a way to create a turnover — their fourth of the game — as Wyatt Ramsey jarred the ball loose, which set up a potential go ahead touchdown.
Holding onto a 24-20 lead, Rockhurst's defense cracked under the pressure.
Facing a fourth-and-short Careswell called on his shifty senior running back Taylor Wilson to help keep the drive from stalling out.
Needing one yard to extend the drive, Wilson stuttered stepped his way through a tiny hole between the right guard and center, picking up the first down along the way to extend the drive. Two plays later, Wilson found paydirt with a 2-yard run up the guy to give West a 27-24 lead with 5:09 left in the game.
"He's elusive. … He's a tiny little dude, but he's strong," Careswell said of Wilson. "He's pound for pound the strongest player in the weight room."
Rockhurst had a chance to either win or tie it on its final possession of the game, but as it did all game long, the Titan defense came up with big play after big play as Cam Careswell sacked Rockhurst quarterback Bobby Hummel on back-to-back plays to end the game.
That moment for Vinny, was especially nice to see, given everything Cam has gone through the last three years.
"He's a good kid," Vinny Careswell said of his son. "It was an emotional pregame, knowing this was Senior Night. He's been through some injuries. … for him to play at the level he does is a testament to him."
Rockhurst and Lee's Summit West are both back in action on Oct. 9.
Rockhurst will host St. James, while Lee's Summit West will travel to Blue Springs.