Photo Credit: Jeff Stead/PrepsKC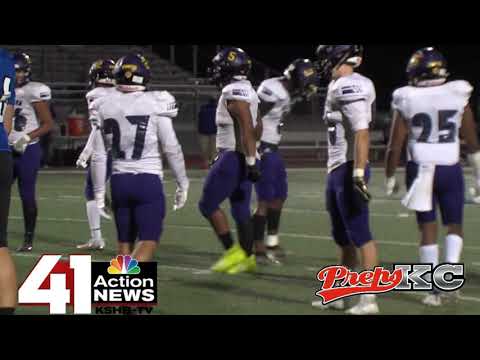 Complete Box Score and Play by Play
Last year at this time, a green Belton football team was slogging its way through an 0-10 season.
What a difference a year makes.
Now Belton is not only savvier but also bigger, and that's the big reason the Pirates find themselves 5-0 after holding off Raytown 22-6 in a Suburban White Conference showdown Friday night at Raytown's Ted Chittwood Stadium.
Belton (2-0 in conference play) had just nine seniors last year, and many of them battled injuries. Now the Pirates have 15, and they make up most of the key players in a punishing running game and a defense that's allowed only four touchdowns all season.
"It's our seniors, 100 percent." Belton coach Todd Vaughn said in comparing past to present. "You could've come to our practices last year when we were 0-10 and you wouldn't have known it because of the group of kids that we have here."
That group includes Ayden Holt, a running back/defensive back who makes his presence felt on both sides of the ball. Holt scored two touchdowns Friday, leading a backfield by committee that combined for 161 rushing yards. And he was part of a Pirate defense that held Raytown (3-3, 2-1) to 117 total yards and tallied four interceptions.
"I think we have a group of seniors out here that just really care for the team," Holt said. "I don't want to be corny, but it just brings me to tears because we have a group of guys who just fight."
That fight came in handy against a quick Raytown defense that penetrated the backfield and made the Pirates fight for most of their yards. But the critical mistakes came early and often for the Bluejays. On their second play from scrimmage, quarterback Nathan Whitebear made a scrambling throw deep in Raytown territory right to Belton's Darius Johnson for an easy pick six.
While Raytown sputtered, Holt capped a nine-play drive with a 1-yard run for his first touchdown early in the second quarter, giving Belton a 14-0 lead it took into halftime.
Raytown quickly cut that lead to 14-6 when sophomore running back Zander Samuels broke loose for a 33-yard TD on the first possession of the second half. The Bluejays forced a three and out on Belton's next two possessions.
As the fourth quarter started, Belton was forced to punt from its own 23-yard line. But Raytown's Freddy Ersery fumbled the return, putting the Pirates back in business.
Ten plays later, Holt scored his second TD from 1 yard out after the Bluejays stuffed him from the 3 one play earlier. Quarterback Braden Gerke hooked up with tight end Brett Gerke for the two-point conversion and the Pirates led 22-6.
"Our defense had played great up to that point," Vaughn said. "And our offense needed to step up and they did."
"The defense has been holding the offense up all year," Holt said. "So it was kind of good to give to the defense and score a touchdown to get the momentum back to our side."
Raytown's final two possessions ended with interceptions, both by senior Josh Wood.
"I think we showed our age a little bit at times today," Raytown coach Logan Minnick said. "You have to hold on to the ball against a good football team. It was just one of those nights where you seem to get a little momentum and then gosh dang, it's gone."
Vaughn can certainly relate, especially last season's youthful struggles.
"It was a good night and I'm really proud of our kids," Vaughn said. "I'm just excited. We've got room for improvement, but it's good to say that after a win."