Photo Credit: Nick Smith/PrepsKC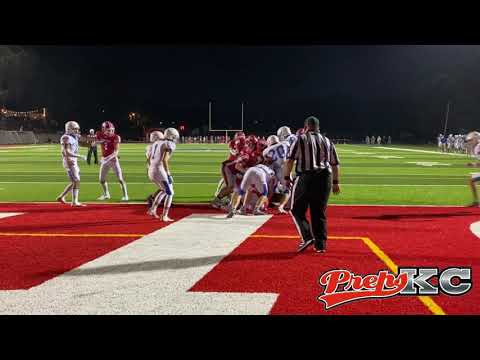 Complete Box Score and Play by Play
Bishop Miege on Friday was trying to avoid its first streak of back-to-back losses since 2012 when Jon Holmes took over as the Stags head coach – a season that saw the Stags lose four games in a row before they made a run to the state title game.
Coming off a six-point loss at St. Thomas Aquinas, the Stags were back at home against state line rival Rockhurst, who proved to be too much early on as Rockhurst rolled 49-28.
Wilson Selzer paced the Hawklets with three touchdowns as he gained 135 yards on 16 carries. Cashius Howell, who wreaked havoc on the defensive side of the ball, added eight carries for 110 yards and added a score of his own – a 76-yard scamper in the third quarter to make it a 35-7 Rockhurst lead.
Rockhurst won the game in the trenches as it pushed around the undersized Bishop Miege line. The Hawklets established the run game early, which opened up the passing game for Bobby Hummel, who completed touchdown passes of 47 yards (Isaac Koch), 76 yards (Johnny Pascuzzi) and 38 yards (Koch). Hummel finished the game with 230 yards on 11-of-17 passing. Jaylen Burch led the way with 83 yards on 18 carries.
On the defensive side, they limited the Stags to 2.85 yards per carry (39 carries for 111 yards as a team) and sacked Timothy Dorsey four times.
Dorsey struggled to find any rhythm in the early going as he threw for 168 yards on 9-of-29 passing, two touchdowns and one interception. Rockhurst was pitching a shutout until Dorsey connected with Rohan Putz for 65 yards with three minutes in the first half to set up a Dorsey one-yard sneak.
Dorsey closed the scoring on the evening late in the fourth quarter with a 43-yard throw to Bartholomew Ausler III to make it 49-28.
Rockhurst will look to keep it rolling next week at Lee's Summit West while Bishop MIege travels to St. James.