Photo Credit: Nick Verbenec/Special to PrepsKC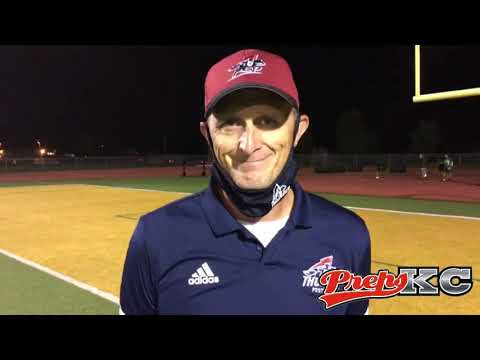 Complete Box Score and Play by Play
St. James Academy didn't have a good week of practice, and Head Coach Tom Radke says it showed Friday night against Basehor-Linwood.
"It was sloppy on Wednesday, and sloppy again on Thursday. And that's why I say it's my fault," said Radke.
The Thunder played well enough to earn a 42-35 victory in Basehor. But with Bishop Miege and Rockhurst on the schedule in the next two weeks, Radke told his team afterwards they better get their act together quickly.
"This is a win. Congratulations. That's all I have to say about that," said Radke. "We have so much work to do. So much work to do."
St. James Academy opened the game with a 46-yard pass from quarterback Dakota Burritt to Tyler Claiborne. On the next play, La'James White dove into the endzone for a 3-yard touchdown. The Thunder missed the extra point.
Basehor-Linwood quarterback Isaac Stanton hit Jordan Brown on a 14-yard slant, and the Bobcats took the lead 7-6.
On their next possession, Stanton completed a pass to Ethan Huber. St. James Academy free safety Jack Gossman knocked the ball out of Huber's hands at midfield and took it the other way for a Thunder touchdown.
"He was running at me, and it was just open. So I punched his bicep, and it kind of fell out," said Gossman. "I grabbed it from him and ran it in."
Basehor-Linwood regained the lead 14-12 in the second quarter on Zach Sisemore's 9-yard touchdown run. Sisemore carried the ball 22 times for 127 yards and two touchdowns.
The Thunder had the ball at their own 29. Burritt passed to White in the left flat. White cut across the field, raced down the Bobcats' sideline, and turned back towards the goalpost for a dazzling 71-yard touchdown. The Thunder tacked on a two-point conversion for a 20-14 lead.
"It was a spread bubble to him, and we missed every block on that play," said Radke. "Jimmy made some great moves and found the endzone. Thank goodness he did. It turned the tide for us."
The Bobcats answered White's big play with another touchdown pass by Stanton. The senior tossed a beautiful fade to Brown for a 10-yard score, and Basehor-Linwood went back ahead 21-20.
But on their next possession, Stanton and Sisemore fumbled the exchange, and White recovered the ball for St. James Academy at the Basehor-Linwood 41-yard line. With one second left before halftime, Burritt ran a 7-yard bootleg into the endzone. After the 2-point conversion, the Thunder were back on top 28-21.
There were six lead changes in the first half, and the Thunder turned two turnovers into 14 points.
"Our defense gave up a lot of yards, but our guys came up with big plays when they needed to," said Radke.
White scored a 5-yard touchdown for the only points in the third quarter. St. James Academy led 35-21. White, the senior transfer from Piper High School, finished with 66 yards rushing, 101 yards receiving, and scored three total touchdowns.
"He brings great energy. He's just a really good young man," said Radke. "He's got some quickness that helps us out. He's a fun player to watch."
In the fourth quarter, Basehor-Linwood ran a draw play for Sisemore at the 9-yard line. The junior running back scored, and the Bobcats were back within a touchdown at 35-28.
The Thunder faced a third-and-long at the Basehor-Linwood 44. Burritt scrambled to his left and lofted a pass to a wide-open Hayes Manning, who caught the ball at the 30 and dashed down the sideline for a St. James Academy touchdown. The Thunder led 42-28 with 7:20 left in the game.
The Bobcats kept fighting. Stanton found Chants Nelson all by himself in the back corner of the endzone for a 5-yard touchdown, and it was 42-35 with 2:02 left to play. Stanton was 34-46 passing for 282 yards and three touchdowns.
The Bobcats attempted an onside kick, but it was recovered by the Thunder.
"Basehor-Linwood put up a heck of a fight. But we didn't block very well. We didn't tackle very well up to the standards of St. James and all the alumni that played here before," said Radke. "We did not play up to our potential, and that's my fault. We'll get that corrected this week before we play Miege."
The Thunder (2-1) will take on the 0-2 Stags next Friday night. St. James Academy beat Bishop Miege last season 28-27.
"It's an interesting match-up. We're playing them at their place. Our home game for our homecoming. So that's a little interesting," said Radke. "They're not going to be happy. They have a sour taste in their mouth from last year. So we know we got to step up our game, and we know they're going to be upset and bring their A-game against us."
"Last year when we played them, we knew we were going to win," said Gossman. "The leadership from last year has carried on to our senior class. I think we're going to have a good tempo going into that game."
With the loss, Basehor-Linwood drops to 1-3. The Bobcats are scheduled to visit Shawnee Heights in Topeka next Friday night.