Photo Credit: Steve Bubalo/PrepsKC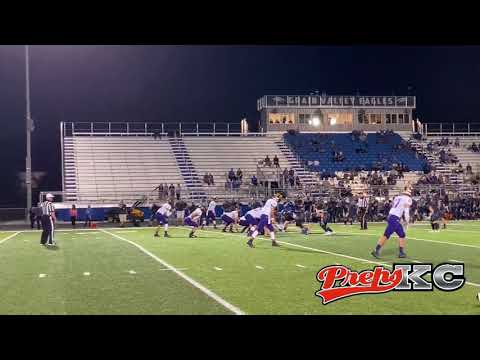 Complete Box Score and Play by Play
Grain Valley appears to be a team on a mission this season. Its latest victim was Kearney, as the Eagles disposed of them in workmanlike fashion, 38-14.
Get in. Get out. Get a win.
"It felt like before the game they were super loud, and we were super quiet," quarterback Cole Keller said. "It had me worried a little bit, but we were quiet because we were intensely focused. We came out and took care of business, and it's on to the next one."
The Eagles wasted very little time climbing on top, getting a three-and-out by the defense to begin the game. The offense preceded to march right down the field and take the lead on a Keller 19-yard touchdown run.
Grain Valley's Cameron Mickelson gave the ball back to the offense on the following Bulldog possession with an interception, and six plays later Jaxon Wyatt found the end zone from 2 yards out for a 14-0 lead before the first quarter had come to an end.
"We found some creases and were able to exploit that and set some things up," Grain Valley head coach David Allie said. "The offense rose to the challenge, and the defense set the tone early."
"We asserted ourselves from the beginning and got momentum," Keller added.
Kearney had a similar issue starting slow a few weeks ago against Platte County, also falling behind 14-0 in the first quarter.
"You can't do that. We have to figure out how to start the football game. We've been hit-and-miss at times," Kearney head coach Josh Gray said. "We can't give up a quick touchdown, have an interception and then give up another quick touchdown. We weren't out of the game, but we've got to be able to recover."
They wouldn't be able to recover on this night, as the Eagles kept their foot on the gas.
The Grain Valley defense forced two more three and outs in the second quarter and each time the offense took advantage. First there was a 31-yard touchdown pass from Keller to Parker Bosserman to make it 21-0. On the following drive, Wyatt found the end zone for a second time, this one from 4 yards out to make it 28-0 at the half.
"They feed off each other," Allie said of both sides of the ball. "They care for each other and believe in each other."
The Bulldogs came out of the locker room with a little fire, forcing a quick punt and getting on the scoreboard with a Jake Lowrey 6-yard touchdown run to make it 28-7.
But like good teams do, the Eagles responded. Keller galloped for 17 yards on the first play of the ensuing drive, and then two plays later he found Bosserman for a 31-yard gain. Another 13-yard pass to Bosserman on third-and-eight extended the drive. Four plays later, on fourth-and-one, Keller ran around the edge and followed his blockers into the end zone from 8 yards out for a 35-7 lead.
"Sometimes when you get hit in the mouth guys may not respond," Keller said. "It is a maturity thing. We took it right back to them."
Added Allie, "They go to work every series. It was a great response."
Keller finished the night with 172 yards passing and 78 more on the ground. Wyatt was a workhorse in the backfield, running 31 times for 157 yards.
Kearney dropped to 2-3 with the loss and will host Winnetonka next Friday night. Grain Valley, now 5-0, will look to continue its hot start when they travel to Fort Osage.
"Lots of people have been waiting for this season," Keller said. "There are 24 seniors and most of us have been playing football together since the second grade. We're here to prove something."