Photo Credit: Nick Smith/PrepsKC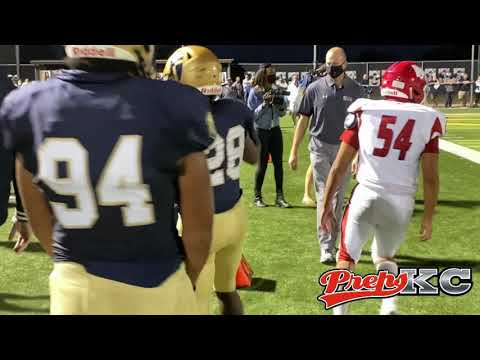 Complete Box Score and Play by Play
St. Thomas Aquinas and Bishop Miege is always must-see TV and Friday night didn't disappoint as the two went back and forth for 48 minutes until the Saints pulled away late for a 41-35 victory.
Tank Young led the Saints with four scores as he ran for 238 yards on 35 carries, but the most important contribution he made was playing decoy on the go-ahead touchdown late in the fourth quarter.
Less than a minute into the fourth quarter, Young busted off a 16-yard run, but came up limping as his ankle was rolled up on by a defender. He would come back in about six minutes later, on what would be his final series, to help set up Blake Anderson's one-yard keeper into the end zone.
The Saints would miss the PAT, but forced a punt and used a healthy mix of Anderson and Sean Carroll on the next drive and Carroll plowed his way in for a three-yard score on the ensuing drive to seal the victory and give his team a 41-28 lead.
Bishop Miege would add a late touchdown with six seconds left as Timothy Dorsey found Mack Moeller for a 22-yard touchdown with six seconds left, but it was too late.
The Saints and Stags traded touchdowns in the first half as Young opened up the scoring on a four-yard run in the opening series, but would quickly be tied up as Dorsey hit Josh Conklin for 15 yards two series later.
The Stags would take the lead on a nine-yard pass from Dorsey to Moeller, but Young answered the call with a nine-yard run of his own, however the extra point was no good. Less than two minutes later, Jaylen Burch found paydirt to give the Stags the brief lead until, you guessed it, Young ran it in from five yards out and added the two-point conversion.
They'd go into the locker room tied at 21 at half and Young opened the second half scoring with a one-yard plunge. Dorsey tied the game up less than 30 seconds into the fourth quarter on a designed keeper to the right side where he dove for the pylon before losing the ball.
Dorsey threw for 303 yards on 20-of-36 passing, with 193 going to Moeller on 10 catches. Bartholomew Ausler III caught seven passes for 70 yards.
Anderson completed 1 of 2 passes for 0 yards but ran for 89 yards on 23 carries. Carroll added 67 yards on 11 carries.