Photo Credit: Steve Bubalo/PrepsKC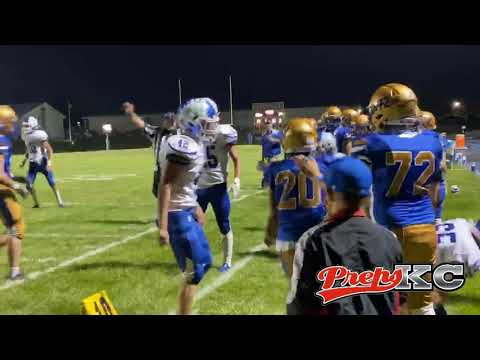 Being a kicker at the high school level isn't a position that gets a ton of opportunities, so it's not surprising if a missed field goal attempt can stick with a kicker.
Lafayette County's Kyzer Gann-Vega admitted as such Friday night after missing a 30-yard field goal in the second quarter against Summit Christian.
"That definitely got me on a personal level," Gann-Vega said. "That dropped my confidence a little."
But in what was a close game, Husker head coach Steve Cook knew he might need his junior kicker again.
"I told him I hadn't lost confidence in him, and that if we had the chance again, I would do it and play defense behind it," Cook said.
Cook didn't go back on his word.
With just a shade more than 3 minutes left in a 28-all game, Cook called on Gann-Vega to break the tie with a 38-yard field goal. Thanks to some help from quarterback/holder Brady Hayes handling a high snap, he did just that to cap a 31-28 come-from-behind Husker victory.
"That's a first for me," Gann-Vega said of a game-winner at the varsity level. "You fantasize about being in that spot, but you don't expect it. I was nervous, but I was happy coach gave me the opportunity."
Added Cook, "That's a lot of pressure, and he handled it."
The two teams were locked in a tight game all night, with neither team holding more than a touchdown lead. They alternated the first five touchdowns of the game, as Lafayette County took a 21-14 lead into the half.
A pair of third-quarter turnovers by the Huskers turned the tide in the Eagles' favor.
After an interception by Cale Johnson, Summit Christian quarterback Grayson Sprouse ran in from 7 yards out to make it 21-20 after the two-point conversion failed. On the ensuing possession, Eagle sophomore Josh Madsen sacked Hayes and forced a fumble, which teammate Luke Poppen would recover.
Sprouse did more damage with his legs and made it a 28-21 Summit Christian lead early in the fourth quarter after a 9-yard touchdown run and subsequent two-point conversion.
Lafayette County needed an answer, and they turned to Austin Gard.
The junior running back made the play of the game to that point on fourth-and-one, unleashing a nasty stiff arm on safety Lucas Eckles and then rumbling for 39 yards to get inside the Eagle 20.
"All props to the O-line. They did a great job all night," Gard said. "I bounced it outside, and I'll take one-on-one with a safety all night. After that (stiff arm), I saw green grass and just kept running."
Three plays later Gard rumbled into the end zone, taking a would-be tackler or two with him.
"He initiates contact with the linebacker," Cook said of Gard. "In the fourth quarter that is the type of back that makes things happen."
Gard and the entire Husker offenses physical style of play was a big difference in the game according to Summit Christian head coach Todd Berck.
"They were more physical the entire night, "Berck said. "We had a few injuries up front, and they exploited that. It was all attitude. We didn't take advantage of some things on offense, and on defense, we just weren't physical enough."
Once the game was tied, the Husker defense was finally able to slow down Sprouse by keeping him inside the pocket. They got a three-and-out after Gard's touchdown and then got a fourth-down sack from Cooper Fisher on the next drive to seal the win.
"The D-line started getting in and getting some pressure," said Evan Hayes, who finished with multiple sacks for the Huskers. "We had to spread the field on defense."
The win was also sweet for the Huskers as it avenged a 35-14 district final defeat to the Eagles last season. They are now 4-0 on the season, while the Eagles dropped to 2-2.