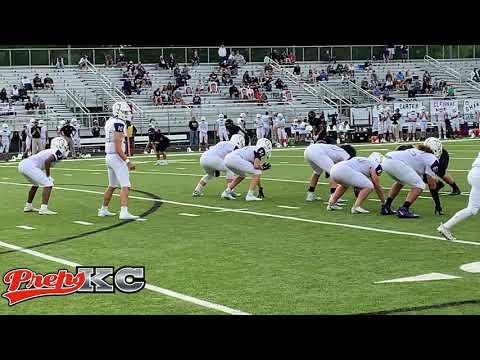 Complete Stats and Play by Play
The Blue Valley district were able to start their football season on Thursday night. The Blue Valley Northwest Huskies went on the road to defeat Blue Valley Tigers earning a 24-17 win which was the first for Northwest over Blue Valley since 2013.
The Huskies scored first when Mike Pauley found Max Muehlberger in the corner of the end zone with a 26-yard touchdown pass. Pauley used his legs for the second score. He took the shotgun snap and scored from 7 yards out.
On defense the Huskies forced a turnover deep in Tiger's territory. Drew Ranallo kicked 36-yard field goal, with just :02 seconds left in the half. The Huskies went to the break with a 17-0 lead.
The Tigers came out of halftime, moving quickly. Greyson Holbert threw a screen pass to Sterling Lockett, for a 17-yard touchdown. The Tigers defense got the ball back, and Charlie Weinrich split the uprights from 34 yards out, and as the fourth quarter began, the Huskies had 17-10 lead.
The story of the 4th quarter was 4th down conversions. The Huskies twice converted on 4th down. The first was 4th and 1 from their own 47. Pauley faked a handoff and kept the ball for 24-yard gain. The play of the game was a 4th and 4 from the Tigers 23. Pauley faked a pitch to the left and then threw the ball to the right, for a 19-yard gain. Two plays later Grant Stubblefield scored on a 2-yard run. Ranallo converted the kick and the Huskies were up by 14 points.
The Tigers made it a one score game when Greyson found Josh Hanna in the middle of the field, and Hanna out-ran the defense for a 36-yard touchdown Weinrich score the final point of the night.
The Huskies will be home to take on Blue Valley West. The Tigers will also be home as the face Blue Valley North.