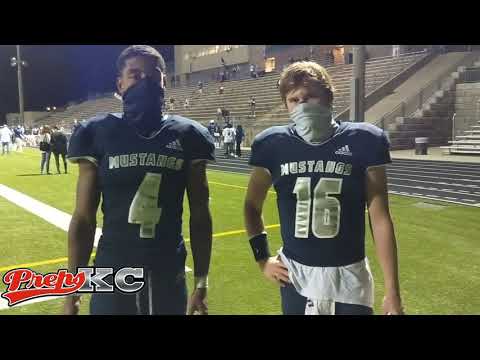 Complete Stats and Play by Play
Blue Valley North's fast-paced, high-flying offense was officially back on Thursday night.
Even if it took a slow start, the Mustangs' no-huddle offense eventually picked up steam in a 42-21 Senior Night victory over Blue Valley Southwest in a season opener at the Blue Valley District Activity Complex.
Junior quarterback Henry Martin and junior Mekhi Miller accounted for five of North's six total touchdowns, and Miller was a part of the final one by way of a passing touchdown.
"It was awesome," said Martin, who's in his second season as the signal-caller. "I love this offense. Every quarterback would be blessed to have an offense like this. Offensive coaches like this and players like this.
"I'm glad to have my boy Mehki (in there)," he said of Miller, who debuted on the varsity squad with a rushing touchdown and a receiving score. "We had every single receiver, running back, even guys on defense show out. The O-line did tremendous … Just a great team effort."
North coach Andy Sims agreed.
"I'm proud of them," said Sims, the program's all-time winningest coach. "Of course, as a coach, there's always mistakes (you're thinking about), but it's tough right now. … We had some Week 1 type stuff."
The Mustangs' offense did most of their damage in the middle quarters, as North scored five straight touchdowns to grab an eventual 42-14 lead late in the third quarter. And that was after Southwest owned a 14-7 lead after the first frame.
It was North's sixth straight win over Southwest.
"Southwest is a tough opponent," Sims said. "Right now everybody's going to be difficult. We're all trying to find out who we are. What one team might do one week they might change the next. We're all trying to it out."
The Timberwolves, who returned a lot of pieces from last season, came out firing, as Tanner Curry fired a 21-yard touchdown pass to Tristen Everard to open the scoring.
Then, after Miller made an impressive diving catch for a big gain to set up his first touchdown as a Mustang, a 1-yard run to knot the score at 7-apiece with 4:08 left in the first quarter. Southwest responded in the form of a Junior Keuwo 65-yard rushing touchdown a little more than a minute following North deadlocking the contest.
North then rattled off 35 consecutive points by way of a Martin 13-yard shovel pass touchdown to Miller, a Martin 4-yard draw play for a score, a Dasan McCullough 28-yard reception from Martin and a Martin 25-yard keeper.
To cap the scoring, Zach Atkins, who finished with five catches for 124 yards, caught a 52-yard touchdown pass from Curry.
The Mustangs' defense finished with three fumbles forced, two recovered, including Wayna' Crofton recovered fumble at the Timberwolves' 4-yard line to set up Martin's first rushing score of the new campaign.
Next Friday, North will face Blue Valley, while Southwest will be idle.