Photo Credit: Steve Bubalo/PrepsKC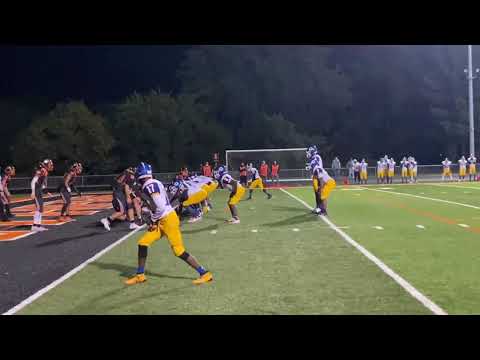 Jacob Andell knew the ball was coming his way.
The Oak Grove senior cornerback had gotten beat on a couple of slant routes in the fourth quarter, both on two-point conversions, the last of which had tied the game with Center at 22-all, as the Yellowjackets had erased a 22-6 deficit.
And now, on fourth-and-two in overtime, Andell was ready.
As expected, Center quarterback Joseph Vick tried the slant route to DeAnte Melson, but Andell stepped in front of him and batted the ball down.
"They picked on me all night," Andell said. "It was about time I stepped up and figured out how to stop it."
That was all the Panther offense needed. Six plays later, Adrian Whitehead plunged into the end zone from 1-yard out to seal a 28-22 Oak Grove win.
"They made a lot of plays throwing to the inside of our cornerbacks," Oak Grove head coach Pat Richard said. "He (Andell) recognized it, made the adjustment and made a play. That says a lot about him."
Richard was finally able to breathe a sigh of relief when Whitehead crossed the goal line. It seemed as if the Panthers had the game under control heading into the fourth quarter.
After a fairly lackluster first half from both teams that saw Oak Grove take an 8-6 lead into the locker room, the Panthers came out in the second half with a renewed energy.
The defense forced a three-and-out on Center's first possession and on fourth-and-one the snap went over Nosa Ohanmu's head. He recovered it but not before losing 28 yards on the play, allowing Oak Grove to take over at the Center 19-yard line. Three plays later Whitehead scored from 8 yards out to make it 15-6.
"What a game by Adrian," Richard said. "Our other fullback was out, so he had to carry it basically every play, and he came through. He kept rolling. What a game by him. Wow. We fed him tonight."
The Panther defense came through again and forced another three-and-out. The Yellowjackets tried to catch them napping on fourth-and-three with a fake punt but Vick was stopped 2 yards short.
With another short field, this time on the Center 34, Oak Grove needed only four plays to make it 22-6 when Andell ran in from 20 yards out.
"We did a great job up front," Richard said. "They (Center) have a great D-line and linebackers. They kept coming. It's a credit to our young O-line. We were rolling, rolling. We did what we do."
Richard wasn't the only one that noticed the work put in by the Panther offensive line.
"They come off the ball, don't they?" Center head coach Bryan DeLong said. "That is Pat's bread-and-butter. For a couple of years, he changed his offense, and I kind of wish he would have stayed with the spread."
Having dug themselves a hole, the Yellowjacket offense started to make adjustments. On their next drive they got down to the Panther 1-yard line, but an incomplete pass stalled the drive. On their next two drives, Vick and company finished the job. Ohanmu capped both drives with touchdown runs, with Vick finding Melson twice for two-point conversions to send the game into overtime.
"I was worried the kids were quitting there," DeLong said when it was 22-6. "We have a lot of young kids playing. This was our biggest test. I was worried they were folding, but they didn't. They were resilient. I'm proud of how we responded. Tonight, it was just a lot of little things we didn't do."
The loss dropped Center to 2-1, while Oak Grove improved to 3-0, its best start in several years.
"We took our lumps," Richard said of the last few seasons. "The big thing about last year was the leadership. Those seniors started to build that back, and these seniors took that and kept it going."