Photo Credit: Todd Habiger/Special to PrepsKC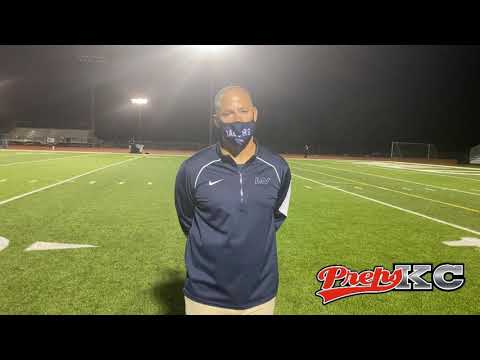 Complete Box Score and play by play
When Mill Valley and De Soto met last year in the sectional round of the Class 5A playoffs, the Jaguars fought tooth and nail to edge the Wildcats in a defensive battle. The Jaguars clashed with their USD 232 rivals again on Friday, but Cooper Marsh and company made sure there were plenty of offensive highlights in this one. The Mill Valley senior quarterback threw three touchdown passes to senior wideout Jacob Hartman as the Jaguars rolled to a 70-21 victory over the Wildcats.
"Really our passing game was going. We liked the matchups we got," Marsh said. "We looked pretty clean this week in practice for passing and that was really our attack tonight."
Marsh connected with Hartman for touchdown tosses of 43, 10 and 44 yards, as he completed all nine of his passes for 169 yards. Senior running back Quin Wittenauer did his fair share of damage on the ground with 19 carries for 178 yards and three touchdowns. Sophomore Hayden Jay chipped in touchdown runs of 4 and 17 yards and sophomore Noah Coy found pay dirt on a 5-yard run to give the Jaguars six scores in the run game.
"They're just executing so well, especially up front. They're executing very, very well," Mill Valley coach Joel Applebee said. "Cooper has to a great grasp of what we want to do offensively in the scheme each week. He's just kind of a calming effect for those kids. I'm very proud of him and Quin is running hard. The receivers are running great routes and blocking well on the edge, but the thing is that we've still got to improve. That's the key and I think they know that."
The Mill Valley defense held the De Soto high octane flexbone offense in check for much of the night. The defensive highlight of the game came from junior defensive lineman Aidan Shaffer when he scooped up a fumble and rumbled 15 yards for a touchdown in the third quarter.
"We wanted to play assignment sound defensively. Our kids were flying around and are playing very fast right now," Applebee said. "The thing is that they can always improve. They understand that, too. Up front, I think we played very well and controlled the things we needed to control."
The Wildcats fell in a 14-0 hole after Wittenauer found pay dirt on the first play of the second quarter, but De Soto senior quarterback Jackson Miller showed off some playmaking abilities of his own to cut the deficit in half. He threw the first of his two touchdown passes to junior Ethan Schultze to pull the Wildcats within 14-7. However, Mill Valley had three unanswered touchdowns to end the half and took a 35-7 lead into the break.
"We absolutely have got work to do for certain in all three phases," De Soto coach Brian King said. "When you play good teams, they'll expose some things, but we did some things obviously to also shoot ourselves in the foot. We've got a lot of work to do."
Miller matched Marsh with three touchdown passes. Schultze was his top target with three receptions for 105 yards. Senior Hayden Henderson also corralled a 20-yard touchdown reception.
"He's a great teammate and great kid," King said of Schultze. "He plays defense for us, he plays offense for us and he's on special teams. He's a very well-rounded, selfless player who is always going to give his best and never complain. We're lucky to have him."
The Jaguars will look to push their record to 3-0 when they play host to Bentonville (Ark.) at 7 p.m. Friday. The Wildcats (1-1) will look to bounce back in a United Kansas League contest with Basehor-Linwood at 7 p.m. Friday at DHS.