Photo Credit: Nick Smith/PrepsKC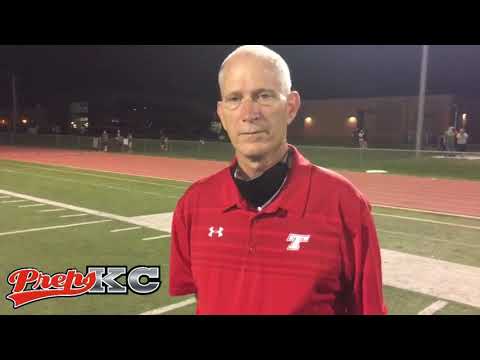 Complete Box Score and Play by Play
Al Troyer says Tyler Bowden just showed up at Tonganoxie's doorstep this summer. Friday night, the Chieftains' head coach let Bowden out back to play, and the senior ran up and down Kiester Field in Basehor.
Bowden, who moved from Free State in late July, rushed for 317 yards and five touchdowns in Tonganoxie's 62-28 season-opening victory at Basehor-Linwood. Last season, Bowden earned all-state honors after rushing for 1,859 yards and 26 touchdowns for the Class 6A Firebirds.
"The deal with him, he didn't want to do remote learning (at Free State). He wanted to be in class," said Troyer. "He had that option here at Tongie. And so they moved over."
Bowden fills a big void left after the graduation of Cooper Cunningham, who rushed for 2,124 yards and 28 touchdowns for Tonganoxie last season.
"You know we've had good running backs in the past," Troyer said. "And for him to come in and fill that role. We had Cooper last year who rushed for over 22-hundred yards. And then Tyler comes in, who rushed for over 18-hundred yards. We also have a good junior running back in Andrew Colvert, who's a power back."
Bowden capped off the Chieftains' game-opening drive with a 30-yard touchdown run. Jerrod Lowe's sack of Basehor-Linwood quarterback Isaac Stanton on fourth down gave the Chieftains offense a short field. Tongy's Dallas Bond ran a 45-yard post pattern and quarterback Blake Poje delivered a perfect pass for a 14-0 lead.
The Bobcats answered when Zach Sisemore ran it in from 20 yards, cutting the Tonganoxie lead to 14-7.
In the second quarter, Tonganoxie's Bond sacked Stanton on third and long and forced the Bobcats to punt. The Chieftains only had to go 44 yards for their next score. On fourth and goal from the 7-yard line, Colvert burst through a gap and gave Tongy a 21-7 lead.
On first down from their own 32-yard line, Basehor-Linwood's Sisemore broke free along the Bobcats' sideline and took it all the way for a 68-yard touchdown. Sisemore rushed 23 times for 167 yards.
After that, the Chieftains took control of the game. Bowden's second touchdown run (from four yards) made it 28-14. After Basehor-Linwood failed to convert on fourth down, Tonganoxie took over on its own 25-yard line with 1:19 left before halftime. Poje connected with Bode Strauss for a 20-yard gain down to the Basehor-Linwood 4-yard line. After a timeout, Bowden scored his third touchdown, and Tongy led 35-14 at the half.
Basehor-Linwood opened the third quarter with Stanton sticking a 41-yard touchdown pass on Jordan Brown. Then Poje lofted a 2-yard scoring pass to Sam Kleidosty for a 41-21 lead.
Stanton hit Chantz Nelson on a 14-yard slant for the Bobcats' last touchdown.
Poje, who was 21-26 for 346 yards and three touchdowns, rolled to his right and threw a deep ball 44 yards to Heston Robbins, who caught it inside the five and fought his way into the endzone. The Bobcats added a two-point conversion for a 49-28 lead.
Bowden scored two more touchdowns in the fourth quarter. His last touch was good for an 83-yard sprint down the Chieftains' sideline. Tonganoxie had 707 yards of total offense.
"We were able to be diversified," said Troyer. "We were able to run the ball and throw the ball. We were well-balanced. We had some long runs. We had some long passes."
The opening night of Kansas high school football during the COVID-19 pandemic was a little bit different. Most of the coaches on the sidelines wore masks. The team captains didn't meet at midfield before kickoff. Game balls were cleaned intermittently throughout the night. At the conclusion of the game, instead of shaking hands, the teams lined up along the hash marks, took off their helmets and waved at one another from a distance.
Even with all the precautions in place, Troyer welcomed the return to normalcy.
"Somewhat, until you tried to yell through this mask," said Troyer. "The mask is a little tough to yell through. But as far as the game, it was nice to be back on the field."
Tonganoxie (1-0) is scheduled to host Louisburg next Friday night. Basehor-Linwood (0-1) has Leavenworth next on the schedule.