Photo Credit: Cody Thorn/Special to PrepsKC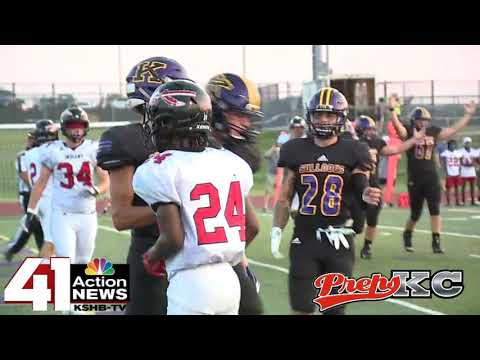 A series of bad plays turned a possible win into a heartbreaking loss for Fort Osage in the season opener on Friday at Kearney.
The Indians were inside the Bulldogs' red zone with less than two minutes left but a turnover led to overtime and Kearney prevailed 27-21 after Dawson Meinert's 2-yard quarterback keeper capped a comeback for the host – for a game that was originally supposed to be played in Independence.
The contest was moved to allow additional fans of the Indians to watch the game, and fans on both sides were asked to social distance during the event held at The Kearney Clinic/Liberty Hospital Field.
The kickoff, though, brought some normalcy back and marked the first sporting event that counted for either team since March.
"At least we got to open the season and play some football," Fort Osage coach Brock Bult said, donning a red gaiter over his face. "I was very proud of our kids. We had a lot of kids that didn't have enough practices in and we had limited numbers. We had kids playing both ways. We sold out … we just made too many mistakes at the end."
The fourth quarter started with Fort Osage leading 14-7, but on the first play of the quarter, Meinert hit Trenton Vaughan for a 6-yard touchdown. Meinert connected with Carson Frakes on the two-point conversion to tie it with 11:52 to play.
Sophomore Larenzo Fenner returned the kickoff 35 yards and Fort Osage started at its own 45. Greg Menne threw a pair of first-down passes to Will Snodgrass (16 yards) and Javen Hall (9) to move to the Kearney 10-yard line. Facing a second-and-goal from the 7, Menne, a sophomorem called his own number and scored. Xander Shepherd – whose name wasn't on the roster – booted the extra point to make it 21-14.
For the rest of the story click here.