Photo Credit: Andy Meyer/PrepsKC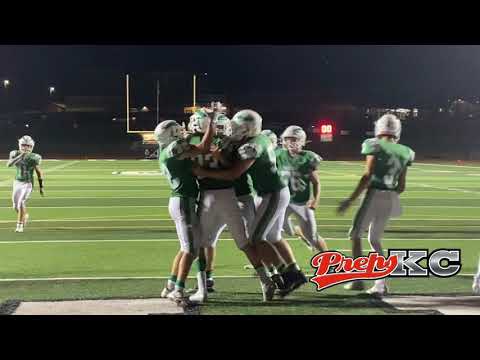 Starting the season off on the right foot is always a priority for Grain Valley, but this year's season-opener had an even greater sense of urgency.
The Eagles scored on the first drive of the game and never trailed again on the way to a 34-24 victory at Smithville on Friday night. Senior quarterback Cole Keller ran for two touchdowns and threw for another as part of a balanced Eagles' attack, while the defense stood strong when it mattered most.
It was a strong showing for a program coming off its first district title in 12 years, and Grain Valley coach David Allie stressed the importance of every game in the midst of the COVID-19 pandemic.
"Because of the situation, you never know when the last game is your last, so they're playing with that relentless attitude," Allie said. "They're coming out here tonight and showed it. We talk about not knowing if you're going to get another one.
"We got one tonight, and we're working to get another one next week."
The Eagles (1-0) wasted no time grabbing an early lead on the first drive, when Keller called his own number on a scoring run to give them an early advantage. Grain Valley scored touchdowns on three of its first four possessions, including a short rushing score by Jaxon Wyatt and a touchdown catch-and-run by Parker Bosserman.
"I thought it was a great performance by our offense," Allie said. "We got to spread the ball around. … So offensively, we feel pretty good."
Even with a slew of new starters, Smithville refused to back down and kept things close throughout. Coming out of halftime, sophomore quarterback Andrew Hedgecorth, a first-year starter, conducted a 10-plus minute scoring drive that resulted in his third touchdown pass to junior Rhett Foster, making it 20-18.
Smithville coach Jason Ambroson said he was impressed with how his team competed despite having to play catch-up for much of the game.
"I really felt like when we scored, after that long drive, if had gotten that two-point play and tied it up, we would have given ourselves an edge," Ambroson said. "But they went back and answered, and you've got to give them credit."
Clinging to a two-point lead, Keller led two masterful scoring drives of 81 and 63 yards that put the Eagles in control for good. His second rushing score from 8 yards out capped an all-around performance that saw him throw for 162 yards and rush for 42.
Keller missed the final games of last season with an injury and said he was thrilled to be leading the team once again.
"I can't put that into words. So excited," Keller said. "It killed me not being out there with them (last year). I wanted to be happy for them, and I wanted to be happy for them. But I wanted to be out there, too.
"So to get back out there on the field with my guys and for them to support me, it means a lot. I love being out there."
Bosserman led the Eagles with 121 yards on four receptions, while Wyatt tallied 61 yards on 14 carries. Hunter Newsome contributed the other touchdown for Grain Valley, to go with his team-high 10.5 tackles, and Allie said he was pleased with all aspects from the team.
"For our first game, there were very few mistakes for either team. There were no turnovers," Allie said. "One of our focuses coming in was no unforced errors, and we're happy about that on both sides."
Meanwhile, Hedgecorth threw for 263 yards and three touchdowns in his first game as starter, while Foster hauled in 137 receiving yards and all three scores. Mason Crim tacked on a final rushing score in the final minutes, and Derek Boyd led the Warriors with 11 tackles.
Despite the opening loss, Ambroson said he was pleased with the Warriors' effort and saw plenty of encouraging signs of progress in the midst of such unpredictable circumstances surrounding the entire season.
"Above all else, we had the chance to play football," Ambroson said. "… We came up short tonight, but I really like where we're going."