Photo Credit: Mike Lavieri/PrepsKC
Carson Key took the opening kickoff 99 yards for Bishop Miege and the rout was on in a historic effort. It was the longest play ever in a state title game at any class level.
Having enough rings to fill one hand is nice, but the Stags are now filling the other hand after their 68-7 blowout of Andover Central. The title marks the sixth straight Class 4A championship for Miege dating back to 2014 and the 68 points is good for a tie for second most in a title game (Miege in 2015).
"Last year, we had a fumble on the first play of the game and we scored one play later," coach Jon Holmes said. "This year we said, 'Who's going to be the guy to make the play?' Carson Key started the game the right way and it fed the whole entire team. Offensively, did a great job throwing it and did a great job running it. Defensively, we took away some really good playmakers they had. We had to play a complete game to win."
The Stags scored the first 62 points of the game before Andover Central got on the board with a 16-yard touchdown late in the third quarter.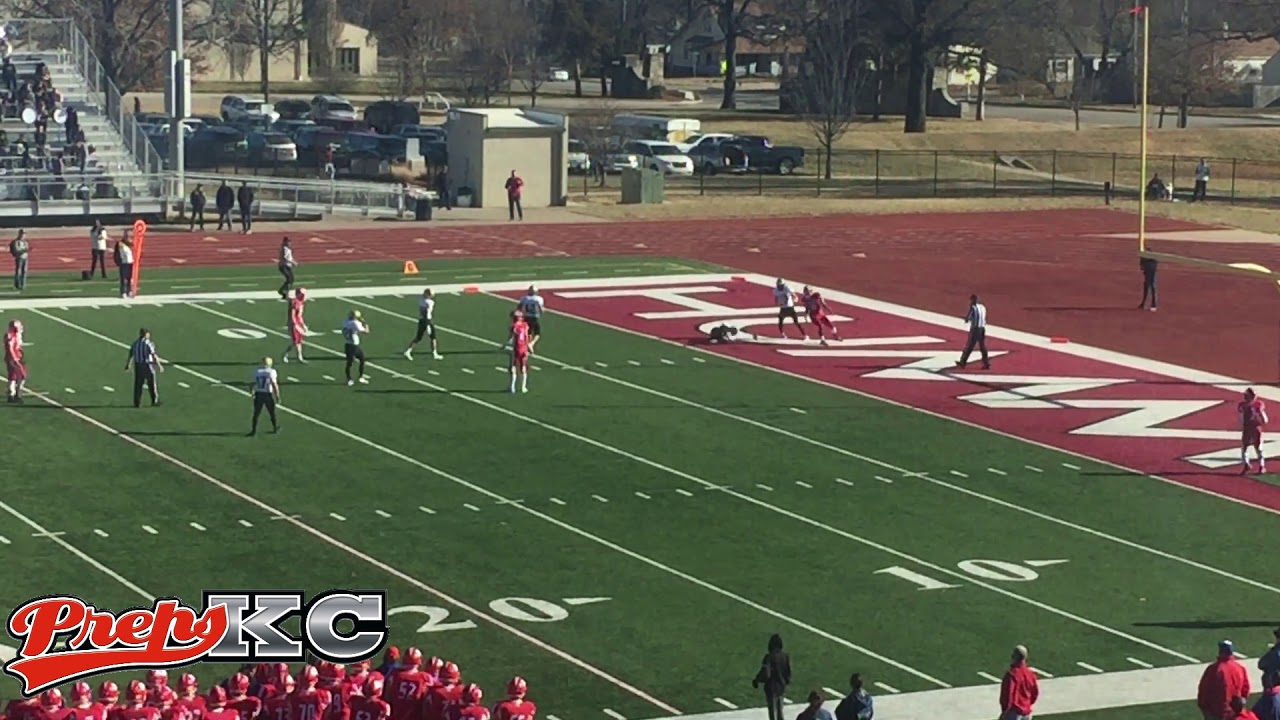 Stags quarterback Timothy Dorsey (23-37, 372 yds, 6 tds) threw five first half touchdowns – three to Phillipe Wesley (5 rec, 109 yards) – and added one more on the ground as Miege raced out to a 49-0 halftime lead. He finished the game with six touchdown passes, which breaks the record of five in a Class 4A title game set by Miege's Carter Putz in 2016 and then tied by Sam Pedrotti last year.
Wesley's four touchdown receptions is also a record, besting the previous record of three, which was last accomplished by Miege's Jafar Armstrong in 2016. Daniel Jackson (11 rec, 173 yards) added two more touchdowns to bring his record-setting season to 27 and Mack Moeller recorded one.
Brison Cobbins added one score on the ground as he ran for 124 yards on 22 attempts.
Miege's 584 yards of total offense is the second most in a title game and is only 20 yards shy of the record Meige set in 2017.
The 403 yards of passing – 372 by Dorsey – is second all-time to Topeka Hayden's 423 in 2014. The Stags also set a record for most first downs with 32. The 25 completions and 41 pass attempts are both second most in a title game, and the 78 plays run is fourth.
The Stags defense held Andover Central to 33 yards of total offense in the first half with the Jaguars punting on seven of eight drives. The other ended in an interception. In total, Miege forced nine punts and picked off Andover Central four times.