Photo Credit: Todd Nugent/Special to PrepsKC
Staley defensive end Caleb Taylor went into Saturday's Class 5 state quarterfinal game against Raytown without a defensive touchdown in his career. He picked the right time to change that.
The senior scored not once, but twice, helping the Falcons roll to a 30-14 victory and one win away from a shot at a state title.
"For a while Caleb was a one-man wrecking machine," Staley head coach Phil Lite said. "Big plays early set the tone."
With the game tied at 7-all late in the first quarter, the Staley defense forced a punt. Raytown quarterback Joe Campbell is the team's punter, but he doesn't take the snap as far back as a punter normally does, as he's basically in an extended shotgun formation.
Taylor went nearly unblocked, stuffing Campbell's punt, picking it up and running it back for a touchdown and a 14-7 lead.
"I knew I'd be able to get back there," Taylor said. "When he's closer like that, it just makes it easier, and then he fumbled it a little it. I wasn't expecting to pick it up and take it in for a score."
Taylor struck again midway through the second quarter. With Raytown in Staley territory at the 42-yard line, Campbell tried a quick pass to his right. Taylor read it perfectly, deflecting the pass to himself and returning it for another touchdown to make it 20-7 after the two-point conversion failed.
"I was assuming a slant or a screen play was coming," Taylor said. "The way the tackle opened up I was able to play both. It just worked in my favor. I just tipped it and caught it. I do it often in practice but that's my first time in a game."
"When they score two times when your defense isn't on the field, that's not a good sign," Raytown head coach Logan Minnick said of Taylor's two scores.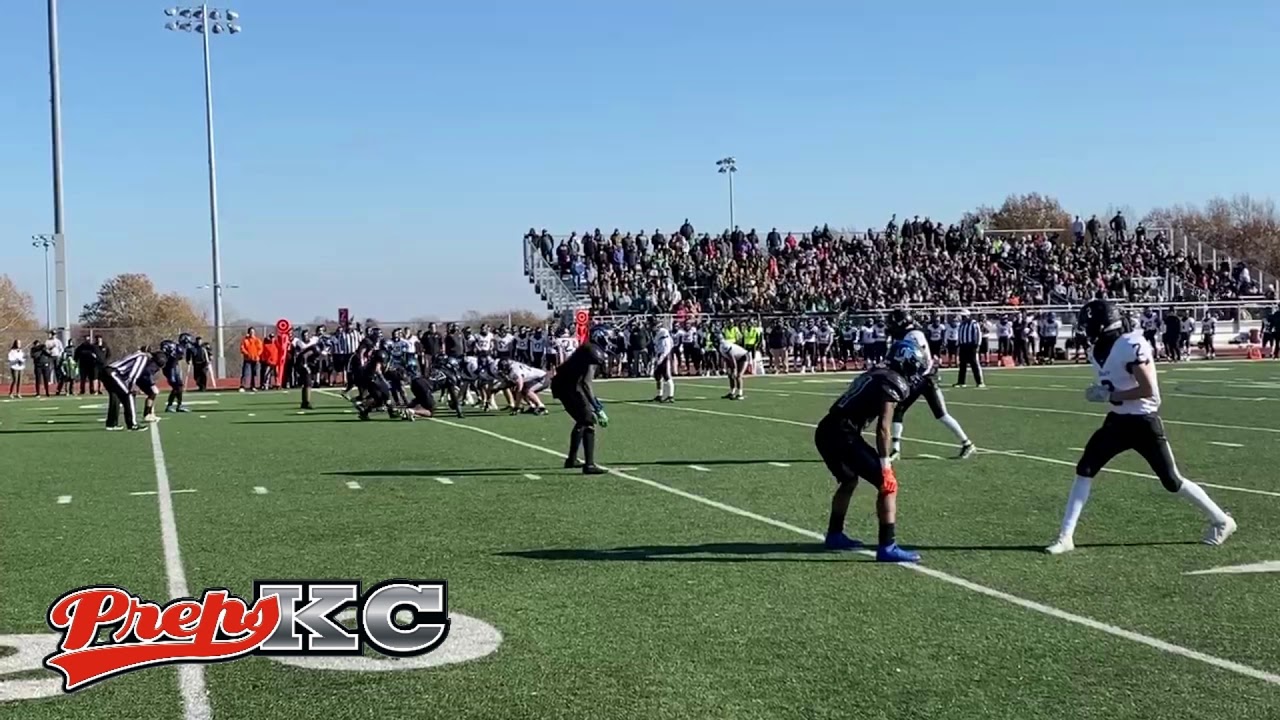 Staley's defensive dominance didn't stop there.
On Raytown's first play on its ensuing drive, Cade Coons intercepted a pass. Three plays later, quarterback Jehr Fowler found Ramon Shelton wide open for a 45-yard touchdown pass to blow the game open, 27-7.
"The defense was lights out," Lite said. "The defensive staff had a great game plan. We were able to limit the big plays and control the line of scrimmage."
Three plays later Raytown's comeback chances took a hit when Campbell was knocked of the game on a helmet-to-helmet hit. It was a scary moment, as he laid motionless for several minutes. He eventually got up and walked off the field but would not return.
While the Bluejays had struggled to move the ball consistently to that point, losing Campbell forced them to change their offensive game plan completely.
"Joe is the glue that holds this team together," Minnick said. "To run the kind of offense we want to run, he's got to be in there to run it. Against an elite defense you need all your cats ready to play."
Staley added a field goal on the final play of the half to take a 30-7 lead. The score stayed that way for most of the second half until Raytown added a late touchdown on a 7-yard pass from Jaheim Burks to D'Vontae Key.
The Bluejays came out of the gates looking to make a statement, going for it on fourth-and-two from their own 41 on the first possession of the game but failed to convert.
The Falcons took advantage of the short field and scored three plays later on a 1-yard touchdown run from Dermont Marshall.
"I have confidence in my kids," Minnick said. "We've gone for that all year. We preach being aggressive. If we get it, I look like a genius. We didn't get it, so we gave them a short field. Credit to them for making a play."
Raytown was able to answer back with an 86-yard touchdown pass from Campbell to Burks to make it 7-7. That would be the lone big play for the Raytown offense on this day, as Taylor and the Staley defense took control from there.
"We came out on defense, and we aced our game plan," Taylor said.
Raytown finished the season 9-3, while Staley, now 10-2, will host undefeated Jackson next Saturday with a berth in the state championship game on the line.
"The kids do a good job of taking care of business. We planned to be here and punch our ticket after losing in this game last year," Lite said. "We had a great week of practice. That's what it will take this week."