Photo Credit: Nick Smith/PrepsKC
Mason Pride says he didn't feel it, but he'll take your word for it.
"I just saw it hit the top of Mason's helmet and everyone went crazy. That's what I saw," said Olathe North's Arland Bruce IV.
Pride blocked an extra point in overtime, and it proved to be the difference in Olathe North's 35-34 overtime victory over Blue Valley West in the Kansas Class 6A sectional round.
"We work on that extra point block all the time," said Olathe North Head Coach Chris McCartney. "(Mason) was really close the entire night, and he got it when it counted the most."
The fifth-ranked Eagles (9-2) advance to take on Blue Valley in a Class 6A sub-state match-up next Friday night.
"I can't believe it. It's such a long road to get here. This is what we work for. It's amazing to get back to this point," said McCartney.
To get here, the Eagles had to hold off the Jaguars. Trailing 28-14 late in the third quarter, Blue Valley West grabbed the momentum in the fourth. Andrew Bradley broke through the Eagles' secondary and outraced everyone for a 47-yard touchdown run with 6:34 left. After forcing the Eagles to punt, the Jags regained possession at their own seven-yard line with 3:29 on the clock. Greg Riddle guided them down the field, and the senior quarterback tied the game on a 15-yard touchdown pass to David Brown with :25 remaining in the game.
The Eagles won the overtime coin toss and elected to play defense first. On a fourth and goal from the nine, Riddle found Brown for the touchdown, and Blue Valley West had its first lead of the night at 34-28. The extra point was blocked by Pride.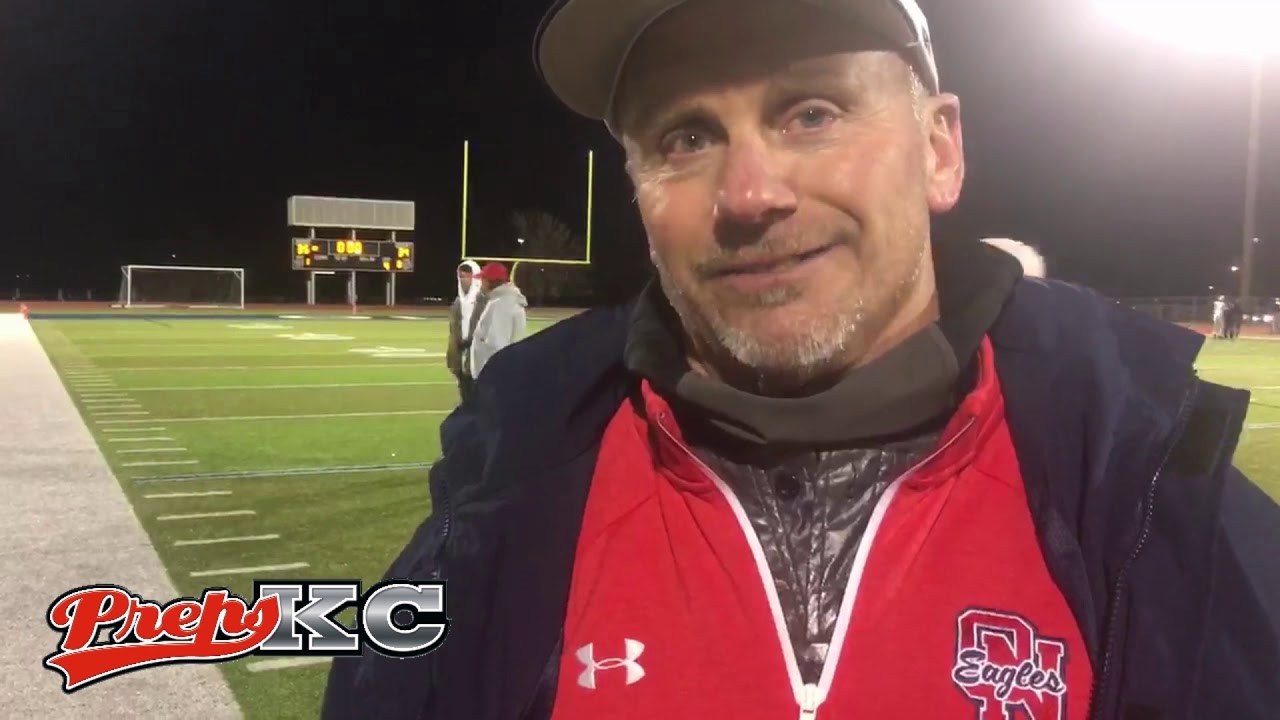 Now it was the Eagles' turn on offense. On second and goal from the 10, Bruce IV ran around the right edge and scored his third touchdown of the night, tying the game at 34-34. Zach Willoughby-Neal's extra point attempt was perfect, setting off a celebration on the Olathe North sideline.
The Eagles jumped out to a 14-0 lead with a pair of Caleb Nelson touchdown passes to Gage Hiebert and Dale Stout. Bruce IV scored his first touchdown from six yards out late in the half, and Olathe North led at the break 21-7. Bruce rushed 38 times for 209 yards and three touchdowns.
"That's AB, man. He's unbelievable. He has a great knack of getting the job done," said McCartney. "He's a competitor through and through. It's unbelievable what he does."
Bruce IV, who continues to play both quarterback and running back, has helped the Eagles get back to sub-state for the second straight year.
"It means a lot. It's a tradition here at North. We just got to go to work," said Bruce IV. "Get two steps further than we did last year. That's win in the semis and go on to state in Emporia."
Standing between the Eagles and a trip to the Class 6A title game is the Blue Valley Tigers.
"We got our work cut out for us with Blue Valley because we know what they're all about. We've seen them a lot of times," said McCartney.