Photo Credit: Lori Habiger/Center Stage Photography
For football fans who love a defensive battle, waiting 16 years since the last meeting between USD 232 foes Mill Valley and DeSoto was well worth the wait. The Jaguars' defense accounted for Mill Valley's only first half points before recording a shutout in the second half in a 18-7 victory Friday, clinching a spot in the 5A state semifinals.
"There was so much adversity in this game. They responded so well to all of it tonight, really," Mill Valley coach Joel Applebee said. "You can't say enough about our defense. Man, I tell you what, they're a great group and they prepare so hard. It just shows when they play. I'm very, very proud of them."
The Mill Valley defense recorded the first points of the game when junior linebacker Kolten Jegen sacked DeSoto junior quarterback Jackson Miller in the end zone for a safety with 2:43 remaining in the first quarter.
While the Jaguar defense continued to get into the DHS backfield, Miller kept his composure in the pocket for much of the first half, and it resulted in the Wildcats taking a 7-2 lead into the locker room. Miller tossed first down completions to junior Hayden Henderson and senior Jake Rosen to help set up a 1-yard touchdown run by junior Garrett Kellner.
"Jackson has really emerged at quarterback. He'll roll out and can scramble at full speed and can really sling that ball and be accurate with it," DeSoto coach Brian King said. "He's a dual-threat quarterback. He's got a lot of tools and I think we're starting to see that. He's got a great cast around him as well—Tyson Priddy, Hayden Henderson, Garrett Kellner, Russell Coy, Austin Tabor and some young juniors coming up as well. But he's done a phenomenal job. He's as competitive as anybody you're going to meet."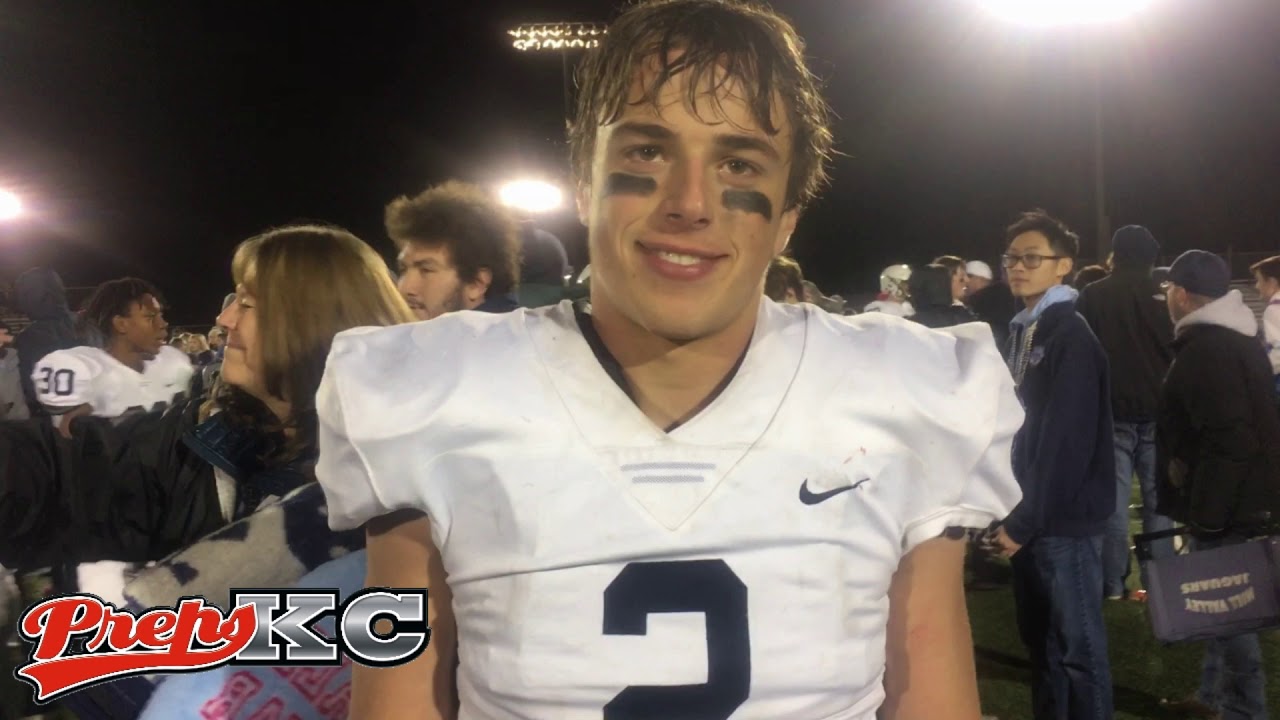 Miller's counterpart showed off some of his dual-threat abilities to put the Jaguars (8-3) back in front early in the third quarter. Mill Valley junior quarterback Cooper Marsh scampered into the end zone on a 20-yard run and also connected with sophomore wideout Jared Napoli for two catches for 38 yards on the scoring drive.
Marsh's pass on the two-point conversion attempt sailed high, though, so the Jaguars only held an 8-7 edge. The Jaguars had a couple of opportunities later in the third quarter to add to that lead, but Marsh coughed up a fumble at the Wildcats' 11-yard line and tossed an interception to senior Dallas Williams at the DHS 7-yard line. The DeSoto defense had three takeaways in all between interceptions from Williams and junior Austin Rosetta and the fumble recovery by junior Zach Switzer.
"Coach (Joel) Thaemert, our D-coordinator has a phenomenal scheme. Our kids buy in and work hard and come to morning film," King said. "They come in early every day, honestly, and either study film or talk scheme with him. I don't think you'll find another better D-coordinator in the state than Joel Thaemert. The kids bought in and executed with the effort they put in. I'm proud of our defense."
The Jaguars defense went stride for stride with the Wildcats defense, though, and the Mill Valley offense got rolling in the fourth behind senior running back Tyler Green. With the Jaguars pinned back on their own 4-yard line, Green busted a 21-yard run up the middle to give them some breathing room. He then put an empathic end to the 96-yard drive with a 40-yard touchdown run. Green logged 21 carries for 123 yards and the touchdown.
"Just keep a positive attitude and keep going. 1-0," Green said. "I trust my boys out there no matter what happens."
The Wildcats (10-1) were still only down one possession following the Green touchdown, but couldn't crack the Mill Valley defense in crunch time. The Jaguars iced the game with a field goal from junior. Chris Tennant in the final two minutes.
Awaiting the Jaguars in the 5A state semifinals is Eastern Kansas League foe St. Thomas Aquinas, which defeated Blue Valley Southwest, 47-20. The Jaguars lost to the Saints, 28-21, in Week 4 to fall to 1-3. They've since won seven straight. The Saints, who are 5A defending state champions, are undefeated at 10-0.
"We're excited," Mill Valley senior defensive back Jack McGuire said. "They got us earlier this year. We'll see what happens next Friday."