Lincoln Prep's season was on the brink when quarterback Howard Brown lined up a few yards behind center. The Blue Tigers were down three points in double overtime to visiting Excelsior Springs in the semifinals of the Missouri Class 4, District 8 playoffs.
Everyone in the stadium knew Brown was getting the ball. Save for one Mario Woods run in the second overtime, the Blue Tigers bruising dual-threat signal caller touched the ball on every snap after regulation.
After Woods' 18-yard run to the Excelsior Springs' 7-yard line, Brown continued to use his feet to take over the game. His 5-yard game-winning score set off a wild celebration as the Lincoln Prep contingent enjoyed an exhilarating 41-38 Blue Tigers' win.
Lincoln Prep is now 11-0 on the season and will host Platte County next week for the district championship.
"I was in my beast-mode momentum," Brown said. "I was just picking my team up and being a leader."
The matchup between Lincoln Prep and Excelsior Springs pitted two teams with similar mascots but contrasting playing styles.
The Blue Tigers of Lincoln Prep, undefeated coming into the game, and seeded first in the district, feature Brown and a roster of playmaking skill players such as wide receivers Rico Gilliam and Darryl Williams, and Woods, a running back.
Fellow running back Israel Gentry is still hospitalized after a serious car wreck last week and missed the game.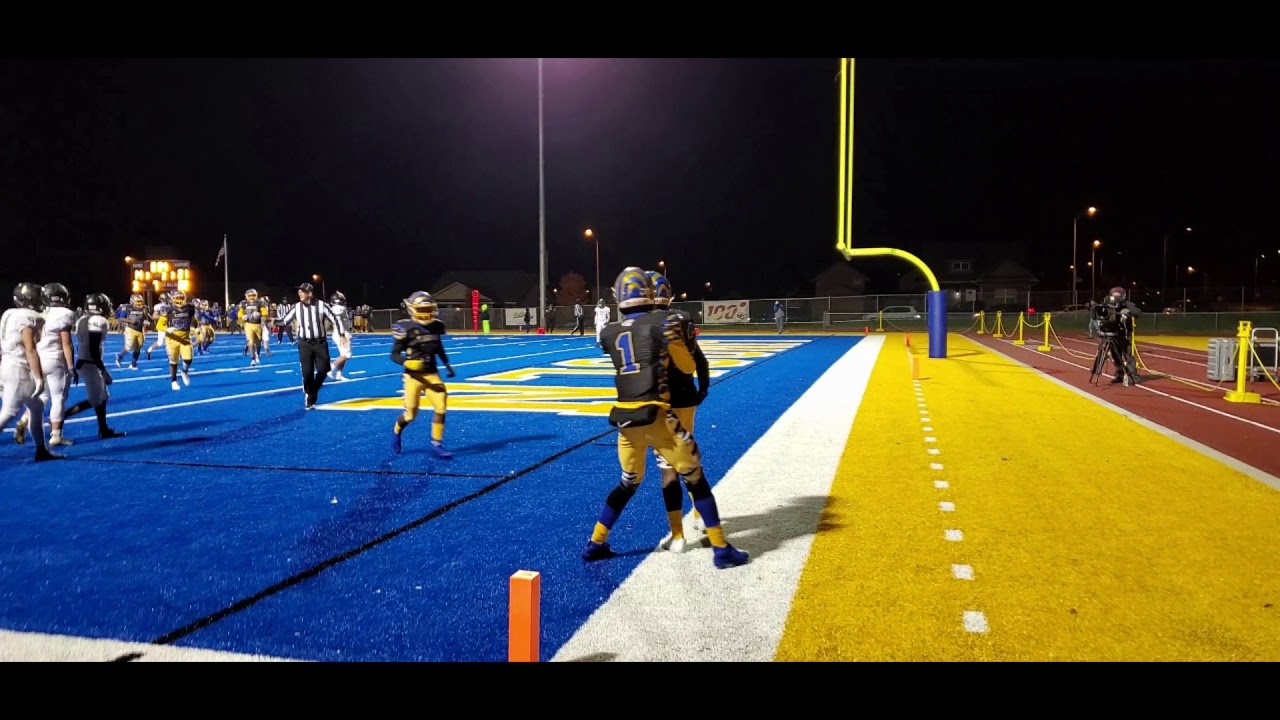 The team has dedicated its postseason to Gentry.
"Words can't even explain what we are doing this for," Brown said. "We've got a lot on our plates. We got a big chip on our shoulder. It's our time to prove something. But this is for Is, man, we love you, bro."
The other Tigers pride themselves on a ground and pound triple option game built for sustained success.
Led by quarterback Brandon Gluhm, Excelsior held first half leads of 14-7, 21-14.
Telling of the competitive nature of the contest, the teams were tied at 21-21 at halftime, and 28-all after the third and fourth quarters.
On Friday, on the blue turf of Lincoln Prep's first-year home field, the two teams put on a dazzling display of football.
In the end, the high-wire act of Lincoln Prep was enough to hold off the veer option attack of Excelsior Springs, thanks in large part to Brown's exploits on the ground during both overtimes.
"Coaches always say, players win games not plays," Lincoln Prep head coach William Lowe said. "So when we got into overtime we had to put it in our best player's hands."
The back and forth nature of the contest was enough to give Excelsior Springs head coach Mark Faubion a reason to pause and reflect after the game. The Tigers came close to knocking off the district's top seed.
At least a dozen core group of seniors played their last game under the fourth-year head coach.
"Giving Lincoln great credit because they are a hell of a team," Faubion said. "Our guys were looking forward to the challenge. What a great match-up it was."