Photo Credit: Michele Gress/Special to PrepsKC
Trying to win a football game is hard enough. Trying to defeat a team for a second time in a season is even more difficult, but that was the task at hand for St. Thomas Aquinas on Friday night against St. James.
In the first matchup, the Saints eked out a seven-point victory where they needed a late interception to seal the game. However, Friday night was a different story as St. Thomas Aquinas jumped out to a 14-point lead in the first quarter and didn't look back in the 34-7 win.
The Saints scored the first 34 points led by Tank Young's three touchdowns of three yards, 14 yards and 30 yards.
"We knew from the first game they were going to fight us hard from the start," Young said. "We had to make sure this time we had to come out with more power and more energy."
In the first round of the playoffs, Young wasn't leaned on much as he only touched the ball five times, but he ran for 142 yards and three scores in a lopsided 63-0 victory against Highland Park.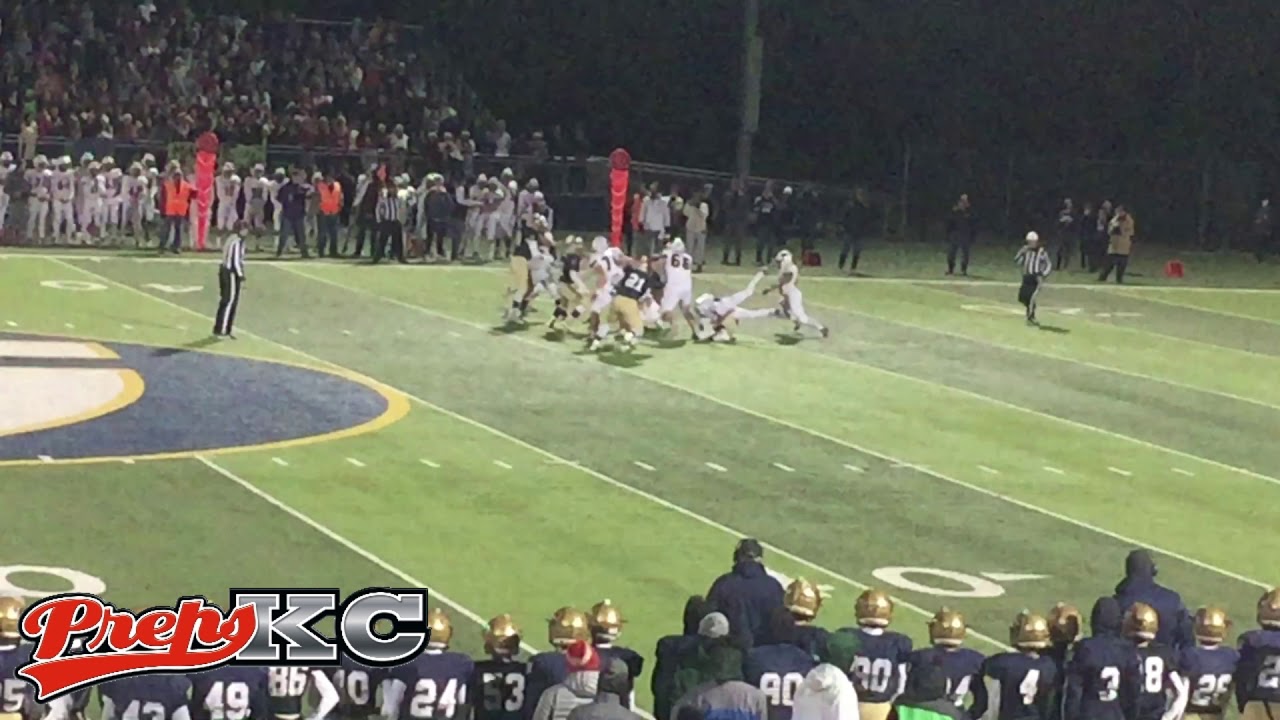 On Friday, Young was he focal point of the offense as he ran 33 times for 255 yards. But Young knew that was going to be the case, which is why he along with a number of the starters sat a week ago.
Quarterback Blake Anderson connected with Tommy Carroll for 21 yards for Aquinas' only other touchdown. There was a bit of controversy as Carroll came down with the ball, but the refs got together to discuss whether he maintained possession when going to the ground, which they said he did.
Charlie Weinrich added two field goals – 29 yards and 21 yards – to round out the scoring for Aquinas.
For St. James, Dakota Burritt found Cade Lautt for a 29-yard score late in the third quarter, but it was a little too late.
Burritt had little time to throw and Michael Tujague's running lanes were clogged up as he amassed 45 yards on 17 carries. He was able to gain 71 yards on five receptions.
St. James struggled to move the ball in the first half as it didn't cross midfield until its sixth drive, which resulted in a Tujague fumble on the Aquinas 20.
St. Thomas Aquinas will host Blue Valley Southwest next week with a spot in the Class 5A semifinals on the line.
"We have to make sure we do our best because we know every team will come out and give it 100 percent against us and we just have to punch them first," Young said.